Korean War veteran from 2013 Honor Flight has died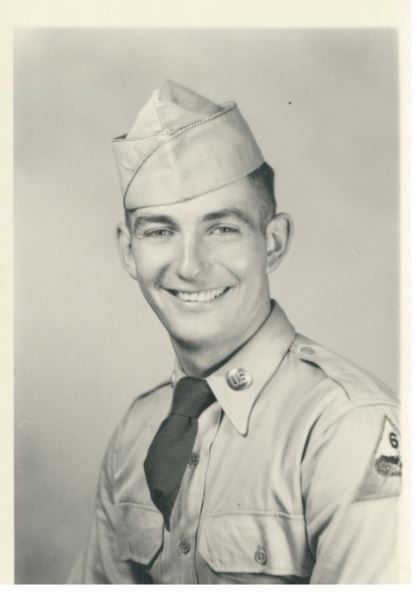 Received word that Cal Wenzel has died. He was a popular resident at Cedar Community in West Bend. I wrote about Cal in June 2013 when he went on the Honor Flight. That story is below.
AROUND THE BEND     June 8, 2013                                                         By JUDY STEFFES
Local Korean vet on today's Honor Flight
A big day on tap for an 83-year-old West Bend man who will be among 10 Korean War veterans and 103 World War II veterans participating in today's Stars and Stripes Honor Flight to Washington D.C.
Cal Wenzel is a resident at Cedar Ridge. He can be spotted most mornings greeting neighbors outside the first-floor Market Café.
While many acknowledge Wenzel's friendly demeanor they probably don't realize he was awarded three Purple Hearts, a Bronze Star, and several other medals while serving as a Combat Engineer in the 2nd Infantry Division during the Korean War.
Originally from Milwaukee, Wenzel grew up on 17th Street between Cherry and Vliet.
"I was working at National Survey Service as a civil engineer in Milwaukee when I was drafted in July 1951," said Wenzel.
In his early 20s, Wenzel entered the army and trained at Fort Leonard Wood in Missouri. "Then I went to leadership school at Fort Leonard Wood and then they gave me an option and said 100,000 were going to Europe or I could go to Korea," said Wenzel who shipped out right when the conflict was heating up.
"I remember I left pieces of me there," he said.
Positioned on the front lines ahead of the infantry Wenzel was either rolling up bunkers or enemy roads while setting mine fields along the 38th parallel or on Pork Chop Hill, Little Gibraltar or the Battle of White Horse. "I was a body and this is the job I was given," he said.
A sturdy 5-foot-8 and 160 pounds, Wenzel said he "was pretty good size, but quick."
During combat Wenzel was hit a number of times; shot once in the left leg and suffering shrapnel wounds to the head and shoulder. "I guess I never really thought about being scared. I was here and I thought I'd better make the best of it," said Wenzel.
Struck in the head after an incoming mortar blast tore off his helmet, Wenzel was transported to an aide station in the field, the military opted not to send him to a hospital in Japan instead caring for him in Korea. "I was back on the line within less than a month," said Wenzel with little emotion. "We were short on personnel, so I went."
Released from active duty in 1953, Wenzel returned home, got married, fathered seven children and worked as an engineer at Falk Corporation in Milwaukee until headaches and dizziness forced him to the sideline.
Today will be Wenzel's first trip ever to Washington D.C.  "I'm looking forward to seeing the Korean Memorial and the other memorials too I guess," said Wenzel.
Asked whether he plans to wear any of his medals, Wenzel said those will stay in his top dresser drawer.  "I'm proud of it but I don't have to flash it off to everybody," he said.
Aside from the Purple Hearts, Wenzel received a National Defense medal, Korean Service medal, Good Conduct medal and Korean Defense medal.
"The military never ended up giving me those because they lost my records and then there was a big fire down in St. Louis at the records hall," said Wenzel.
Letters penned to President Obama, Congressman James Sensenbrenner, and former U.S. Senator Herb Kohl all came back with the same story – the burden of proof would be on Wenzel.
"I didn't have any close friends that had gone through service with me," he said. "I was always on detached service so I was working alone."
While disappointed, Wenzel takes the situation in stride. "You put your life on the line for your country," he said. Being a man of strong faith, Wenzel said he's simply content to have a life.
Wenzel's guardian on today's Honor Flight is his daughter Becky Werner.
Other veterans from Washington County on today's tour include Steve Sopkowicz, Earl Ollinger, Merlin Graff, William Schreiber, Robert Plamann Sr., and Anton Bild of West Bend, Doug Pares and Paul Mraz of Germantown and Marion 'Mike' Karch from Colgate.
This is the 18th Honor Flight mission out of Milwaukee. To date, 2,675 veterans have taken a Stars and Stripes Honor Flight.
Cutline: Cal Wenzel served in the U.S. Army during the Korean War from 1951 to 1953. He's pictured on the ship "Frederick Funston" that sailed out of Adak, Alaska to Korea.