Washington County, WI – "This is our 30-year plan," jokes Andy Laird as he is sitting on the deck at The Cedar Lodge with his wife, Donna. They found Cedar Community online in 2020, drove up from their condo on Milwaukee's lakefront, and were immediately impressed. A drive through the Cedar Lake Campus to check out the independent living homes led to many conversations with residents who were out and about at the time. An official tour and meeting with Cedar Community's sales team sealed the deal for the Lairds.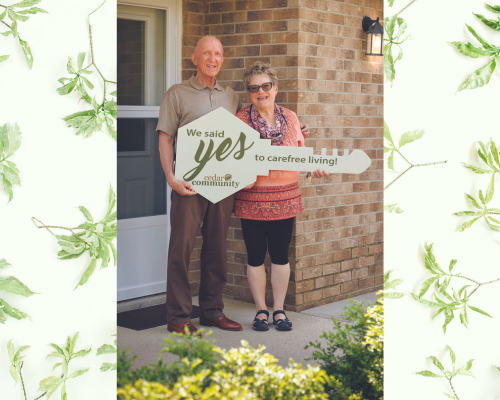 Andy and Donna patiently waited 26 months for a home to become available. They eventually had a choice between two home styles and picked one that would satisfy Donna's need for a larger kitchen—with room for cooking and baking. During their months of waiting, they drove up to the Cedar Lake Campus several times to enjoy picnics on the lake campus.
They would often run into current residents who were always so friendly and welcoming. Andy laughs, "I said to Donna I want whatever they are drinking—everyone is so happy here." They will be moving in this month and can't wait to start enjoying all the hiking trails, lake access with pontoon boat rides, activities, and volunteering.
The Lairds have been married for 11 years. They met in 2009 when both worked at the
Milwaukee Journal Sentinel—Andy as a chief technology officer and Donna in retail advertising and billing. A coworker whose office was next to Andy's told him, "There is a lady on the fifth floor you should meet." After 27 years of marriage, Donna had been a widow for five years and was quite comfortable in her new life. "I got to rediscover myself and what I wanted in life," says Donna. The same coworker was playing matchmaker with Donna, too, encouraging her to at least meet Andy, who she often smiled at on the cargo elevator, even though she didn't know who he was. "I worked on the fifth floor and he was on the penthouse-like sixth floor." A spiral staircase joined the two floors and Donna eventually called it her "stairway to heaven."
A powerlifting event was the Lairds' first date—something they both had an interest in
recreationally and competitively. Donna joined a gym at 52 years old and began powerlifting at age 55. Andy started powerlifting when he was 60 years old. Donna could lift 375 pounds, squat 400, bench 198, and dead-lift 360. She even held a national record.
"I felt God gave me a second chance at life and I wasn't going to blow it so I joined a gym, lost 100 pounds, and began powerlifting," said Donna. Andy is no slouch, either. He could dead-lift 455 pounds and holds all related Wisconsin records for his weight in age groups 60-69 and 70+. He also broke the national dead-lift record for the men 70+ age group.
Andy jokes, "Donna is the Energizer Bunny™. She just keeps going. Unlike a lot of people who dream about something and wish they could do it, Donna dreams about it and then does it!"
Read more about the Lairds in the summer edition of Cedar Community's Live More magazine by clicking HERE.