A love story in Barton – A secret package awaits Essie
 A unique love story is brewing in Barton. It features a couple from the 1940s who work at a pair of neighboring businesses on Barton Avenue.
Hank, a veteran of WWII, has returned from service and picked up a job at Wisconsin House Woodworks as a cabinet maker.  Essie works next door as a window dresser and sales clerk at Over The Moon.
When last we left the couple, Essie found the dress she would wear this Valentine's weekend when she goes on her first date with Hank.  Within the past 24 hours the courtship has taken a sweet turn as Essie discovered a package left on the front stoop at Over the Moon.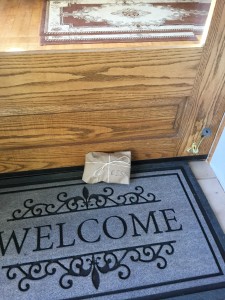 Wrapped in brown paper and tied with a simple piece of white string, the package weighed less than a fresh jar of peaches.
There was no card. The package simply had 'To ESSIE' written on the front.
"It's not going to open itself," prompted Deb as she shuffled through the vintage gift store with more red lace for Valentine's Day.
Essie shook the package gently and then pulled the string in a delicate fashion. She savored the experience.  Inside the package was taffy. Each piece individually wrapped in a small twist of wax paper. Otten's grocery was stamped on a plain card inside the bag.
Well… at least Essie knew where the candy came from – she could only assume it was from Hank. "Those candies ain't going to eat themselves," said Deb as she scurried past the front counter. "And don't mess things up with those wrappers, we don't need customers asking for candy we don't have."
Hank, in the meantime, was just down the street at
Maricio's
. He
heard they were serving heart-shaped pizza for Valentine's Day and wanted to make sure they'd have a table for his big night out this weekend.
"Oh we'll be sure to set you and Essie up just fine," said shop owner Mary Waters as she drew a 10-cent tap for Hank.  
Deep dish pizza caught Hank's eye as he familiarized himself with the menu. "Perfect," he thought. The deep dish had just come on the market in the 1940's, in order to accommodate the most amount of toppings. Hank also made sure Mary would have a nice bottle of wine delivered to their table that evening.

Photo of Mary and Hank and a guy who is not Hank's twin brother but is wearing a similar dark flannel shirt.
  – – Build. Boost. Buy in Barton  – –