May 8, 2019 – Big Cedar Lake, WI –  In just an hour or so, you can create unique and inexpensive packaging for a small gift, perfect for the little treat you're giving Mom this Mother's Day. With a little supervision, this is a fun project for kids as well.
The peat pots I had stashed when I closed up the Century FarmhouseStudio two years ago were eluding me. Again. I knew what kind of box they had been stashed in and I knew they were not with the soaps and other projects I have been working on for the past two years……  You know how things get put in a place that you KNOW you'll remember? Ha.
Mother's Day is coming quickly and panic mode was beginning to set in.
It wasn't until I had purchased more peat pots and more paint and more glitter that I came upon the whole project in a flat box on the top shelf in my mother's basement. These cute little painted pots are the perfect packaging for little springtime treats, and I was determined to share them with you whether I found the original ones or not. Now you get to see several options for decorating them and you will have so many pretty peat pots that you'll need to have a garden party!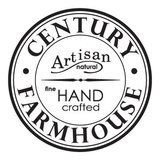 The little gift cups take only about an hour or so to complete and use materials that just might already be around your house. They are not expensive to create and can be used as a spring decoration for months – even years – to come.  Follow along and I'll show you how to create a pretty peat pot gift cup, just in time for Mother's Day.
Peat Pot Gift Cups
find gift ideas at the end of this post!
This really is a kitchen table sort of project.