January 24, 2020 – West Bend, WI – Maria Olson is a wonderful student.  She is intelligent, works hard and takes pride in producing quality work.  More importantly, she is curious and enjoys learning.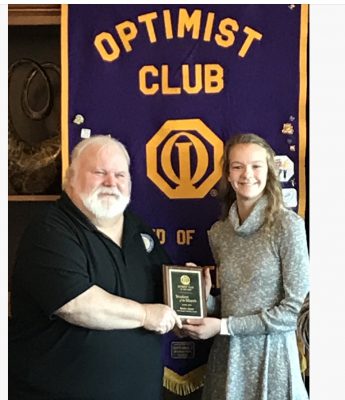 Maria has a can-do attitude, is reliable, and can be counted on to take charge with any project.  She is a great example for her peers and for the younger kids at Holy Angels.  In addition, Maria is helpful, kind and compassionate, qualities we value highly here.
Maria participates at school and in the community with enthusiasm.  In addition to playing on school sports teams, she is a long-time member of the HAS Hope Club and joined the Bells Choir this year.  She works as a patrol and serves at Masses.  As a member of the Student Council, she has taken charge of many of the outreach projects such as food drives and school spirit activities.  Sometimes it is hard to imagine anything getting done without her.
Maria is, without doubt, an optimistic young woman with a bright future.  We are happy to be able to recognize her accomplishments with the Optimist Student of the Month award.
Maria was presented her award at the Optimist Club luncheon on Thursday, January 16. Her parents, grandparents, and aunt and uncle joined her for the luncheon.