January 26, 2021 – Hartford, WI – The City of Hartford issued a 90-day notice to Mayor Timothy Michalak on January 21, 2021 regarding his rental agreement with State Senate District 13 candidate Don Pridemore.
Michalak rented a room in his home to Pridemore and his wife Tina. The couple were selling their home in the Town of Erin and Michalak said he wanted to help.
Turns out the area where Michalak's home is located is zoned single family residential and it is against the City's zoning code to rent a room .  See the note below.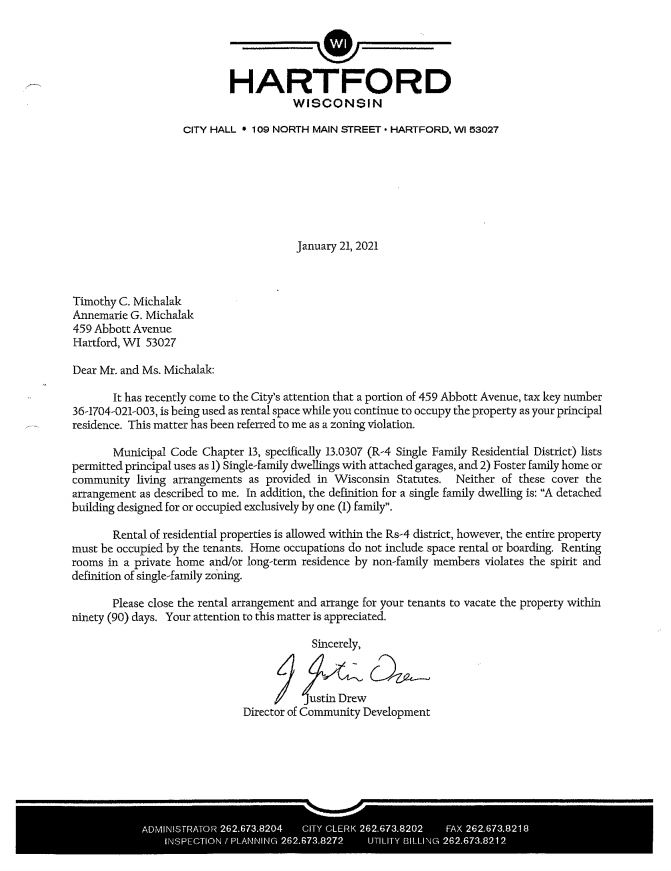 Reached by phone Michalak said he thought when Pridemore legally changed his address in February 2020 someone at the City should have told them it could not be done.
"I thought had there been any problem it would have been brought up to me at that time," said Michalak. "Unfortunately it wasn't. I have not memorized all of the different codes, that's why we have City staff."
"Had I been aware of it it was certainly something I would not have put forward. I was helping a friend at the time and now I know I have 90 days; within 90 days it will be corrected."
In January when Steven Hepp challenged the Pridemore campaign about the Abbott Avenue address, Pridemore said he moved in with the mayor because he was selling his home to his son. He said he did not buy a home in the district because of the pending redistricting.
In terms of Pridemore's concern about buying a new home with redistricting on the horizon, Reid Magney with the Wisconsin Elections Commission said that is not a factor.
"In this legislative session the legislature has to pass a law creating new districts based on census information. That data is not available yet. But the redistricting doesn't affect this at all," he said. "That has absolutely nothing to do with this."
According to the Wisconsin Election Commission there is no requirement to live in the district in order to run for the State Senate. A candidate who wins must live in the district 28 days prior to taking the Oath of Office.
"Obviously I don't wish to be in any violation, when I put it to City staff they didn't tell me I was (in violation) and now that they believe there is, Don will do what's necessary to straighten it out," said Michalak.
The primary election is February 16. Pridemore is one of three candidates vying to advance to the April 6 General Election. The other candidates include John Jagler, state representative and Todd Menzel, businessman.
Aside from being mayor, Michalak is also the chairperson of the City of Hartford Plan Commission.