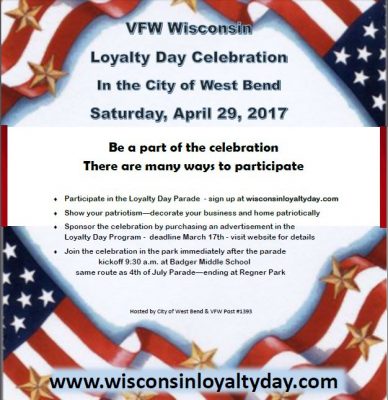 April 18, 2017 – West Bend, WI – During Monday night's Common Council meeting, West Bend Mayor Kraig Sadownikow read an official proclamation declaring May 1, 2017 as Loyalty Day.
The proclamation read:
Whereas: In 1958, Congress, by public law, designated May 1 of each year as Loyalty Day; and
Whereas: Loyalty Day was established as a day for reaffirming our loyalty to the United States of America, our Constitution as written, and our founding values; and
Whereas: It is fitting to celebrate, on this day, the freedoms secured and preserved by the individuals of our Armed Forces who have risked their lives for liberty independence and the American way of life; and
Whereas: Hostile forces continue to exist in the world today. As we strive to solve the problems confronting us, int it appropriate to stop for a moment and reflect upon our heritage of freedom and what it means to be a responsible American.
Whereas: The City of West Bend is honored to be selected as the Wisconsin Loyalty Day Municipality in 2017.
Now Therefore, I, Kraig K. Sadownikow, Mayor, proudly join the Veterans of Foreign Wars Post No. 1393 in proclaiming May 1, 2017 as  "Loyalty Day"  in the City of West Bend and call upon all citizens to display the American Flag at homes and businesses in testimony of our loyalty and to join in the festivities held on Saturday, April 29 in the City of West Bend.