Mind the Gap – English import store to open in downtown West Bend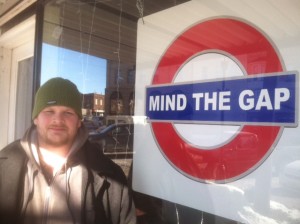 Downtown West Bend will soon to be home to an English import store. "I've been in banking 12 years and this has been a dream of mine to open a business," said Robert Tye of Kewaskum.
He'll be opening the store, Mind the Gap, 121 S. Main St., within the next two weeks with his wife Sarah.
Originally from Essex, Tye speaks with an Essex accent.
"This is huge now," said Tye. "A big fan base has grown over the last three years. British items are in high demand on Amazon and I'll have them in the store so people can pick them right up and not have to wait for delivery."
Tye, 32, and his wife picked downtown West Bend for their store because of the proximity to their home in Kewaskum and he's found the community a friendly place.
"We love West Bend – so many nice people, we wanted a warm environment – a place where we thought we could make it," he said. "This is a perfect location with Music on Main and the Farmers' Market."
By July, Tye would like Mind the Gap to carry English beer and have a beer-tasting section.
Mind the Gap will be open seven days a week starting at 10 a.m.
Mind the Gap is an English saying related to the underground rail system. When the train pulls up there's a familiar voice that says 'Mind the gap' because you've got to get across that space to get on the train.
A soft opening will be held in the coming weeks as the store prepares a grand opening March 1.