West Bend, WI  – The Museum of Wisconsin Art (MOWA) announces the opening of Wisconsin Funnies: Fifty Years of Comics, its first major exhibition following a three-month closure due to COVID-19.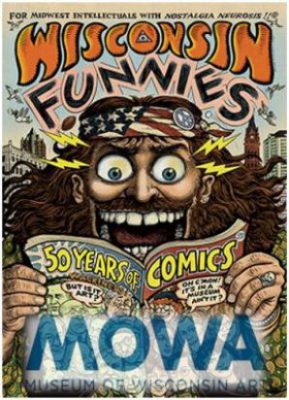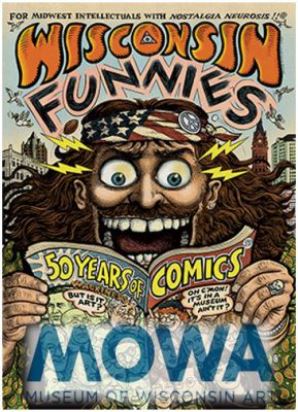 This exhibition presents the rich history of comics in Wisconsin as it explores the major themes, innovations, and publications that characterize the state's contributions to comic culture.
The exhibition opens on August 8 with opening weekend activities including food trucks and artist commentary and remains on view through November 22, 2020.
"This exhibition introduces some much-needed laughs into 2020," said Associate Curator of Contemporary Art J Tyler Friedman. "But the works also show the serious side of comics as a medium for political protest and a platform for marginalized voices."
Wisconsin Funnies is MOWA's first exhibition on view in multiple museum locations. The West Bend flagship museum presents a comprehensive overview of comics in Wisconsin including underground comics (a.k.a. "comix") and the lively Madison scene including artwork by 2019 MacArthur "Genius" Grant recipient Lynda Barry, Associate Professor of Interdisciplinary Creativity at the University of Wisconsin–Madison.
The museum's downtown Milwaukee outpost, MOWA | DTN, located within Saint Kate-The Arts Hotel highlights politically-themed comics. The exhibited works include graphic novels, alternative newspapers from the 1970s, a comic book commissioned by the Wisconsin Department of Justice for high school students, and multi-page stories by Milwaukee Journal-Sentinel's longtime (1967-1991) editorial cartoonist Bill Sanders.
In connection with the exhibition, a fully illustrated 244-page catalogue aptly titled Wisconsin Funnies: Fifty Years of Comics articulates the national role of Wisconsin comics. The catalogue features essays by historian and culture critic James P. Danky and Madison-based graphic novel author and editor Paul Buhle.
The catalogue features more than 150 comic illustrations by thirty- one renowned comic artists including Ernie Bushmiller, Al Capp, Will Eisner, Harvey Kurtzman, Peter Poplaski, Steve Rude, and Bill Sanders. The Wisconsin Funnies exhibition catalogue will be available for purchase at both exhibition locations.
MOWA in West Bend, Wisconsin is open Wednesday through Sunday, 9:30 – 5:00 with the first hour reserved for seniors (60+) and vulnerable members.
Admission as low as $15 allows for unlimited visits for one full year. MOWA | DTN located within Saint Kate–The Arts Hotel in downtown Milwaukee is free and open to the public during normal lobby hours.
Exhibition Activities
View all exhibition activities at wisconsinart.org/comics
Grand Reopening Weekend | West Bend
Saturday–Sunday, August 8–9 | 9:30–5:00
Kick off the exhibition opening with a weekend celebration. Enjoy outdoor food trucks on Saturday, August 8 from 12:00– 3:00 and other activities throughout the weekend.
Free with Admission.
Virtual Artist Talk with Denis Kitchen
Thursday, August 13 | 7:00
Meet long-time Wisconsin cartoonist and publisher Denis Kitchen as he discusses his career in comics and graphic novels on Facebook Live. The presentation will be accompanied by scores of historic and rarely seen images followed by Q&A with Associate Curator Tyler Friedman. https://www.facebook.com/MuseumofWisconsinArt/events/
Studio Class | MOWA Masters: Comic Illustration with Jeff Butler
Saturday, August 19 | 10:00 – 1:00
Learn how to construct, illustrate, and ink your own comic page with Jeff Butler, renowned illustrator, comic book and video game artist, and UW-Madison instructor. $40 with membership. https://wisconsinart.org./mowamasters
Studio Class | MOWA Masters: Sketchnoting with Mike Rodhe
Saturday, September 12 | 10:30 – 1:00
Learn how to communicate visually through doodling and creative notetaking with Mike Rohde, author of The Sketchnote Handbook. $35 with membership. https://wisconsinart.org./mowamasters
-more-
Museum of Wisconsin Art | 205 Veterans Avenue, West Bend, Wisconsin 53095 |262.334.9638 | wisconsinart.org | Page 2 of 3
Virtual Expert Lecture with Paul Buhle
Thursday, September 17 | 7:00
Join Madison-based retired lecturer and historian Paul Buhle for this virtual expert lecture on comics in Wisconsin. Buhle has authored and edited many graphic works about the history of the political left. https://www.facebook.com/MuseumofWisconsinArt/events/
Image Credits
Image 1: Peter Poplaski, Wisconsin Funnies, 2020. Courtesy of the Museum of Wisconsin Art
Image 2: Denis Kitchen. The Bugle #316, 1978. Cover. Ink and Zip-A-Tone on illustration board. Courtesy of Denis Kitchen.
Exhibition Sponsors
Support for the exhibition is provided by the Wisconsin Department of Tourism, National Endowment for the Arts, and The Wisconsin Humanities Council. Further support for 2020 exhibitions is provided by James and Karen Hyde, Pick Heaters, and the Wisconsin Arts Board.
The Museum of Wisconsin Art explores the art and culture of Wisconsin. Founded in 1961, MOWA is one of the top museums of regional art in the United States, with over 5,000 works of contemporary and historic art by more than 350 artists.
The building's modern wedge shape is a striking sight on the west bend of the Milwaukee River and is the centerpiece of the museum's four-acre campus. With 18 rotating exhibitions and over 175 programs—from talks and tours to making art and meeting artists—MOWA attracts nearly 200,000 visitors annually. There is always something new to explore at MOWA. Visit wisconsinart.org to learn more.
Museum of Wisconsin Art | 205 Veterans Avenue, West Bend, Wisconsin 53095 |262.334.9638 | wisconsinart.org