New general manager at Paradise Theater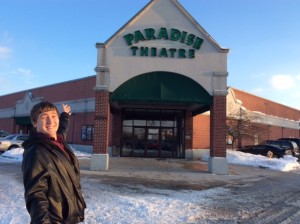 There's a new general manager at the Paradise Theatre in West Bend as Nick Avambato, 20, has taken over for Sanford Cohen. "I want to be involved in the community," said Avambato.
A native of Delavan, Wisconsin Avambato grew up in the movie theatre industry as his father has owned theaters for 30 years. Avambato worked at the Showtime Cinema in Franklin and for the last two years he was with at a theatre in Indiana.
The Paradise Theatre webpage makes the 'Under new management' a bold statement on its front page. Avambato said that means, "We'll listen," he said. "I want the community to tell me what they want. I have a lot of short term goals; I want the theatre to be cleaner and we'll be focused on getting the word out about the movie selection via social media."
Aside from keeping $5 tickets and free popcorn on Tuesdays, Avambato said he's going to work on the theatres answering message and improving the overall image.
"You're coming to the theatre for the experience and we're going to have a better offer than sitting at home – you just can't beat a big screen experience," he said.