Slinger-Allenton Rotary make donation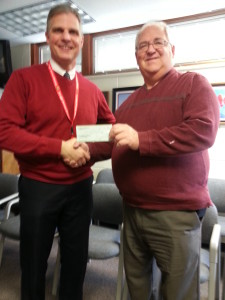 The Slinger-Allenton Rotary's Treasurer Darren Sievers recently presented a check to Ron Naab, a volunteer, with Washington County Heroin Task Force.
The donation will be used by ELEVATE, a non-profit corporation, dedicated to help those with addictions along with supporting families of addicted family members.
The money will help keep the Heroin Awareness Trailer in operation.  Last year the trailer was in 11 parades and parked at locations throughout the county.