Future of Pizza Hut in West Bend
Working on a story about the Pizza Hut on W. Washington Street in West Bend. I've received several emails and have calls out to store management and Wisconsin Hospitality Group.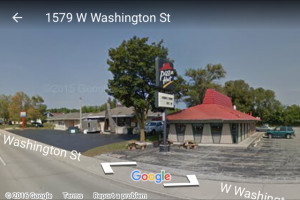 There's word spreading across social media regarding the future of the Pizza Hut.
Calls to the store were turned away Saturday evening.  A visit to the Pizza Hut on Sunday received no comment from manager Joe. Another round of calls to Wisconsin Hospitality Group is being placed on Sunday.
There have been announcements this year about other Pizza Huts in Wisconsin that will close later this month.
Below is a release about the Pizza Hut in Delavan. I'll keep you posted.
Sadly, we will be closing our Delavan location on January 26, 2016.
Monday, January 11, 2016 – Wisconsin Hospitality Group, WHG, announced today that they will be closing the Pizza Hut restaurant located in Delavan, Wisconsin on January 26, 2016 with the last day of operation on January 25, 2016. The Delavan Pizza Hut is one of 82 Pizza Hut restaurants within the WHG restaurant franchise group.
The company's lease on the Pizza Hut building located at 1261 E Geneva St was coming to an end in January and, although it was a difficult decision for company owners, they have made a business decision to close the restaurant after serving our wonderful guests in the Delavan area for 39 years.
We hope to have the opportunity to return to the Delavan area in the near future and possibly open one of our new Pizza Hut restaurant concepts, which has been very well received in other communities. But, that decision has not been made at this time.
In order to stay competitive in the rapidly changing restaurant category, the company must continually assess its restaurant asset base and make decisions accordingly. Asset changes sometimes include store closings, but more often than not, they involve new store openings or remodels. During the last 30 months, the company has embarked on an aggressive program to remodel or relocate restaurants throughout the State with an updated and fresh new image. In fact, during that period the company has completed over 40 restaurant remodels and relocations to update the brand image. The company will continue to upgrade its restaurant base as well as pursue additional new locations within the state.
Upon announcing the closing in Delavan, WHG has offered all salaried and hourly employees the opportunity to stay with the company and work in any of its other Pizza Hut restaurants or, possibly, in any of its 36 Applebee's locations.
Wisconsin Hospitality Group owns and operates more than 100 restaurants across Wisconsin, including Pizza Huts and Applebee's Grill & Bar restaurants, all committed to guest satisfaction and community support.
The company has a long history of giving back to the communities it is located in and has recently established a non-profit foundation, WHG Cares, and throughout the last 16 years, WHG has been able to donate more than $2.9 million in combined gifts to local charities including Children's Hospital, World Hunger Relief, Honor Flight and One Heartland. These donations were made possible by both the generosity of guests and the hard work of all WHG team members.
On a side note – I reported last week, Jan. 13, 2016, about the Applebee's in West Bend being sold.
Wisconsin Hospitality Group owns and operates more than 100 restaurants across Wisconsin, including Pizza Huts and Applebee's Grill & Bar restaurants.
For details on the sale of Applebee's in West Bend click here.