January 16, 2020 – West Bend, WI – The woman named Wisconsin Collegiate Conference Coach of the Year 11 times in her career at UWM at Washington County is taking up a new position.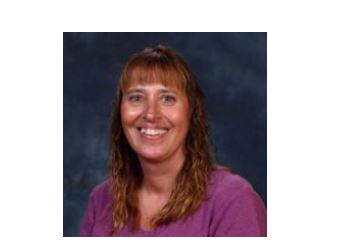 Debbie Butschlick of West Bend is the new varsity girls volleyball coach at West Bend West High School.
Butschlick has a stellar volleyball resume. She recently has served as athletic director and volleyball coach at UWM at Washington County. Butschlick began coaching the Wildcats volleyball team in 1985.Since then, the team won the WCC conference championship nine times, WCC Eastern Division Title 12 times, advanced to the final-four state competition 16 times, State Runner up seven times, and earned the state title five times (1992, 2002, 2003, 2013, 2018).
UWM at Washington County posted a second place finish in the WCC Eastern Division in 2019 with a 4 – 2 record and 9-4 overall. The team finished the Wisconsin Collegiate Conference State tournament with a 7 – 3 record earning the Runner up State trophy
This past season UWM at Washington County also placed four players on an eight-person WCC all-conference team. Three players earned the highest honors of player of the year, setter of the year and defensive specialist of the year.
Butschlick has always stressed education before athletics. Her student athletes have raved about her motivational skills and support network.
In 2018 the state champion Wildcats put together a video thanking Butschlick for her leadership, encouragement, and caring.
Butschlick said she started exploring her options in coaching after UWM at Washington County announced it would cut the conference athletic programs at the University in Washington County in 2020-2021.
Butschlick sent a letter to parents in the West Bend School District.
Dear Spartan Volleyball Players and Parents,

How exciting it is to start a new adventure as the West Bend West Volleyball Coach.  My name is Debbie Butschlick and I am a graduate of West Bend West, UWM-Washington County and Cardinal Stritch University.  I have played at the high school, college and club levels and coached at all three levels as well.

My original coaching position started as the JV coach for West Bend West over 30 years ago and what a wonderful way to come full circle.  Even though I only coached for five years at the high school, it will seem just like yesterday when I step back into the gym.

I am excited to take a group of student athletes and work with them not only on the volleyball court, but hope to give them some life skills as well.  I plan to take what I have accomplished at the college level and transfer it to the high school team.  From what I have seen last year, all three teams had tons of talent and I hope to expand on the talent this year.

I do not believe in 3 hours practices, I do believe that we can accomplish everything that the teams will need in two hours.  At this time we are looking at practicing from 4:00 – 6:00 pm, giving the student athletes time to seek help in their academics if need be. However, times could change once I meet with the East coach and figure out a schedule that works best when sharing facilities. I would also like to run open gyms on Tuesdays starting July 7th from 6:00 – 8:00 pm.  Try outs will be 2 to 3 days and we will be having two a day tryouts.  As of right now the morning session would be skill related and the afternoon session would be more game play.  Once the season begins we would like to incorporate some cardio activities/training as they relate to the game of volleyball. I also strongly encourage everyone to work with our Strength and Conditioning Coach Josh Pruner if they haven't started yet.  The above information is pending until I have my coaching staff set and I have the opportunity to see what works best in their schedules as well.

I look forward to having parents involved in fundraising, special theme nights and team bonding.  Parent support is huge, when it comes to running a successful program. I look forward to meeting everyone in the near future. Please feel free to reach out to me with any questions at [email protected].

Sincerely,

Coach Butschlick
Butschlick said she still plans on holding her summer volleyball camps. More information will be posted when details become available.