New officers sworn into WBPD
Three new officers were sworn in to the West Bend Police Department during Monday night's common council meeting.
Applicants for police officer completed a written test and physical ability testing in September. Successful candidates then participated in four hours of assessment exercises in October after which investigators conducted extensive background investigations on those that passed the exercises. The top candidates were then interviewed by the Police and Fire Commission. Candidates successfully completed a full day of psychological testing and after all the testing and scrutiny, the city of West Bend hired the following three police officers on January 4, 2016.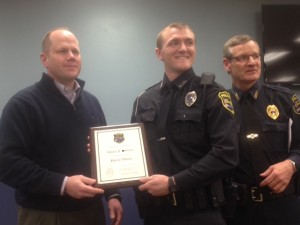 Austin SHILLCOX – Austin is a 2012 graduate of Valders High School. After graduation he attended Concordia University, where he received his Bachelor's degree in Justice and Public Policy from Concordia this past December. While attending Concordia, Austin started with the West Bend Police Department as a Community Service Officer in June of 2014. During the summer of 2015 he attended the State of Wisconsin's Law Enforcement Basic Recruit School at Fox Valley, graduating in August.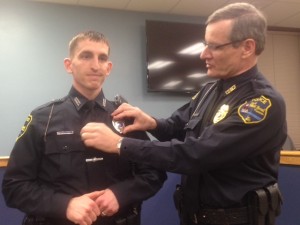 Joshua STEKENBERG – After his graduation from Campbellsport High School in 2005, Joshua joined the U.S. Marine Corps. When he returned home in 2007, he worked for a family landscaping business. In 2011 he decided to pursue a career in law enforcement and enrolled in Marion University where he obtained a Bachelor's degree in Criminal Justice in May, 2015. In the fall of 2015 he attended Basic Recruit School at Fox Valley, graduating in December.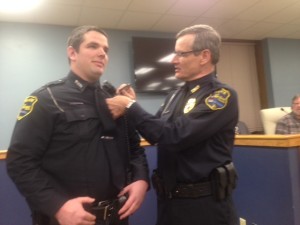 Joseph "Jeb" VACHUSKA – After his graduation from Brookfield East High School in 2010, Joseph attended Iowa State University where he earned his Bachelor's degree in Psychology and Criminal Justice in May of 2014. He completed Basic Recruit School at Milwaukee Area Technical College in November 2015. Joseph spent his summers in high school and college on the golf course. That is working on the golf course where he did a number of jobs including maintenance and office work.
Please join me in welcoming Austin, Joshua, and Jeb to the City of West Bend Police Department and the community.