Northbrook Church loves their neighbors – over 108,864 meals were packed and shipped By Dan Durbin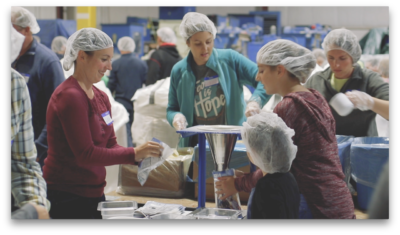 Dec. 2, 2016 – Richfield, WI – Northbrook Church packs 108,864 meals for hungry children, provides appreciation bags and meals to over 900 Washington County first responders, and serves local high school students and staff.
Northbrook Church just finished up a 40 day church-wide emphasis that benefited children in Nicaragua, first responders from Washington County, and students in Milwaukee.
The campaign was called Operation: Love Your Neighbor.  Pastor Mike Bellanti spoke passionately on Irresistible Love for five weeks, but what was truly awesome was people were so inspired they put boots to the ground and got things done.
"We believe if God's good news is in us, that should be good news for everyone who is our neighbor," said Mike Bellanti, Senior Pastor of Northbrook.
One of the projects, Feed My Starving Children, rallied 500 volunteers from Northbrook to pack meals for hungry children in Nicaragua.
My wife, Lisa, and sons Hunter,15, and Blake, 12, chose this event as part of our own "loving your neighbor" contribution.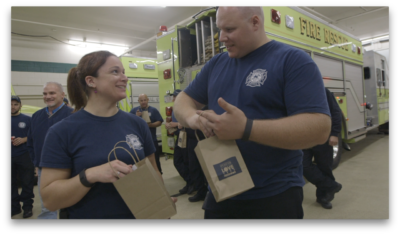 It was a very emotional event—from the intro video showing us where the meals were going, to vacuum sealing the last meal we packed for the day.  Without fail, each and every station had a smiling person running it.
Over the course of the two days an astonishing 108,864 meals were packed and shipped.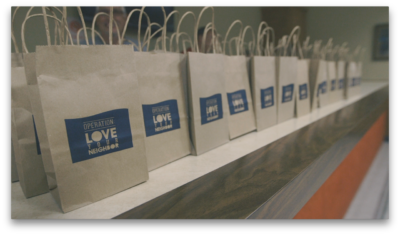 But the message and efforts didn't stop overseas; Northbrookers partnered with 20 local businesses to create appreciation bags and meals for over 900 first responders from Richfield to West Bend.  Fire departments, EMT's, and police officers were just a few of the groups that were touched.
"Our heart was to simply serve as a catalyst for good will in our community," said Dean Stelow, Pastor of Discover for Northbrook. "It was so cool to see the community get involved in showing appreciation to our local heroes."
Operation Love Your Neighbor Partnering Businesses were: Spiros Industries, Starbucks, Brisco County Wood Grill and Saloon, Barley Pop Pub, Robert's Custard, Flower Source, Kruegers Bowling, Culvers, Qdoba, Sloppy Joe's, Klements Sausage, Laughing Mountain Popcorn, Johnny Manhattan's, Sweet Creations, Josten Heating 4 Star, Toucan Custard, Hubertus Chiropractic, Pleasant Valley Tennis & Fitness, Digital Edge Printing, Jimmy's Family Restaurant
Another effort to extend good will and kindness to neighbors involved serving at Vincent High School.
Northbrook volunteers partnered with Vincent students and staff to prep and paint the freshman wing hallways and remodel the teacher's lounge, providing a refreshed environment for faculty and students alike.
To help encourage Vincent Staff, people of Northbrook donated over 2,000 classroom supplies and provided staff meals on Vincent's fall semester Parent/Teacher Conference night.
"Vincent is a special place," said Pam Arbeiter, Director of Share for Northbrook. "Many of our volunteers mentor Vincent students on a regular basis. This was a great way to create even more connection with students and staff. I think we were more blessed than they were."
The Love Your Neighbor message series was more of a "movement" or "action plan" than a series of sermons. It went far beyond the four walls of the church.  It touched people locally and globally, and Northbrook doesn't plan on the mission stopping any time soon.
In fact, it's only beginning.