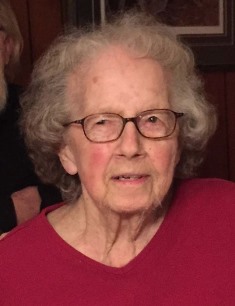 June 27, 2017 – Hubertus, WI – Irene R. Loeffel (nee Belanger), age 93, passed away on Sunday, June 25, 2017 at Community Memorial Hospital.  She was born on June 15, 1924 in Stratford and married George P. Loeffel on June 15, 1950.
She enjoyed quilting, crocheting afghans, sewing, gardening, canning and baking.  She loved going up north on vacation and visiting friends and relatives.  Above all, she cherished time spent with her family.
Irene is survived by her children, Mary Loeffel and Robert Loeffel, Carol Sasse, and Lynn Loeffel; beloved grandchildren, Benjamin (Kayla) and Nicholas (friend Sarah Brackney) Sasse; adorable great-grandson Aldo Cooper Sasse; sisters-in-law Ruth Shuchart and Nona Leffel; other relatives and friends.
She is preceded in death by her parents; son James; husband George; brother Raymond (Frances) Belanger; sister-in-law Alma Bauman; brothers-in-law Arthur (Dorothy), Arnold (Dorothy) and Elmer Leffel.
The Mass of Christian Burial will be held 3pm Thursday, June 29th at St. Gabriel Catholic Church (1200 St. Gabriel Way, Hubertus) with Fr. Timothy Bickel presiding. The Visitation will be held at church Thursday, June 29th from 1 pm until the time of Mass at 3 pm. Interment will be at St. Hubert's Cemetery.