Obit: Isabelle Mueller, 96, of West Bend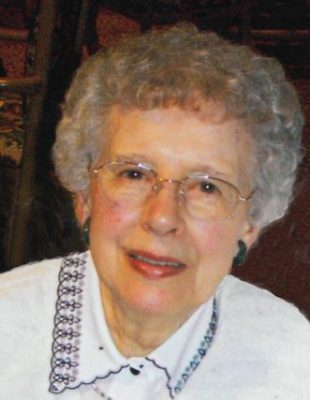 July 26, 2017 – West Bend, WI – Isabelle Mueller went to be with her dear Lord on July 23, 2017 at Cedar Bay Community Care Center in West Bend, Wisconsin. She lived 96 blessed years.
Isabelle was a gentle, kind, and gracious woman. She was guided by her faith throughout her life. She strived to follow Christ's example in all that she did, whether it was making large pots of stew for Indian school children, patiently helping beginning readers, scouring the scriptures to teach a Bible class, or teaching her own children how to pray.
A beloved wife, mother, and friend, Isabelle was empathetic to others and put their needs above her own. Those that knew her felt her love and compassion. Her quiet sense of humor and quick wit put smiles on those around her.
Isabelle was born on December 12, 1920 in Minocqua, Wisconsin to Rev. Gustav and Hilde (nee Harders) Fischer. She was fortunate to have been both baptized (January 2, 1921) and confirmed (March 25, 1934) by her father. Isabelle was an exceptional student. After high school, she attended Northwestern College in Watertown, Wisconsin for one year. She then transferred to Doctor Martin Luther College in New Ulm, Minnesota, receiving a teaching certificate in 1941. Isabelle began her career teaching first grade in LaCrosse, Wisconsin.
Isabelle's career path was interrupted when she went to her mailbox and found a small cardboard box affixed with a three cent stamp. It contained an engagement ring from Wilbert Mueller, her special friend from New Ulm. Isabelle was married to the love of her life on June 27, 1943 in Watertown, Wisconsin. Shortly after, they boarded the train to go to Bylas, Arizona. Wilbert had a call to start a school at the Apache Mission in Arizona. Isabelle not only taught, but made lunches for the Indian school children. Soon Wilbert and Isabelle started their family. Barbara was born in October, 1944.
In 1946, the new family moved to Tawas City, Michigan. Wilbert had received a call with Emanuel Lutheran Church. Isabelle quickly became a very busy mother. Martin was born in 1947 and the twins, which were a complete surprise, were born in 1950. Isabelle even did some substitute teaching at Emanuel, putting the babies on a blanket in the back of the classroom.
Fulfilling a wish to be closer to Grandma Fischer, the family moved to Glendale, Wisconsin in 1957. Wilbert had received a call to be teacher/ principal at St. John's Lutheran School. Isabelle joined the staff a year later, teaching first grade once again. As a working mom, she managed the after-school hours by having her younger children cut letters, clean paint brushes, and organize Dr. Seuss books while she prepared her lessons at her desk. On the weekends, Isabelle woke up early to start her baking. Her cinnamon coffee cake still can't be duplicated! She'd also tackle mounds of laundry, working especially hard to get church clothing ready.
After the kids went off to college and the military, Isabelle stopped teaching and focused on the care of her mother. About this time, her children began having children. Isabelle had fun teaching her grandchildren piano lessons, taking them to see President Ronald Reagan, and helping them decorate their bikes for Fourth of July.
In 1989, Isabelle and Wil moved to Cedar Campus in West Bend, Wisconsin for their retirement years. A calendar was a must for them. They became very involved in lots of activities. Isabelle loved singing and joined the Choristers and Cedarettes. She renewed her sewing skills in the Nimble Thimbles Group. She and Wil had fun meeting friends at coffee hours and game nights. Outside of Cedar Campus, Isabelle volunteered to lead a Women's Bible Study group at St. Andrews Lutheran Church… for twenty years.
A special joy for Isabelle was enjoying the many visits from her children, grandchildren, and great-grandchildren. They, too, received special joy from Isabelle. She always showed interest in their lives and easily gave words of encouragement. She will be missed.
Isabelle is survived by her children Barbara Hinton of Belle Mead, New Jersey, Martin Mueller of Hartford, Wisconsin, Sharon Heikkinen of Port Washington, Wisconsin, and Cheryl (Richard) Zemetra of Olympia, Washington. She is also survived by many beloved grandchildren, great-grandchildren, nieces, and nephews.
Isabelle was preceded in death by her husband of 73 years, Wilbert Mueller, her brothers Jerry Fischer and Paul Fischer, and her sister Donna Loose.
A Memorial Service will be held at the Phillip Funeral Home Chapel (1420 West Paradise Drive, West Bend, WI 53095) on Friday, July 28, 2017 at 1:00 P.M. Visitation will be held at the funeral home from 12:00 P.M. until the time of the service. Reverend John Vierkant will preside. Memorials to St. Andrew's Lutheran Church or Cedar Community Music Program are suggested in lieu of flowers.
About Author
Judy Steffes
First-run stories from a trusted reporter who has lived in West Bend/ Washington County for over 33 years. Business/faith/education/community/history/arts.