Obit: Kenneth M. Goeman, 91, of Hartford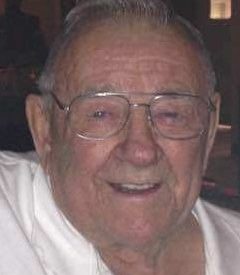 August 16, 2017 – Hartford, WI – Kenneth M. Goeman, age 91 went home to the Lord on Sunday, August 13, 2017 at Cedar Community Care Center. He was born September 23, 1925 in Antigo, WI to parents Walter and Rona (Grams) Goeman.
Ken was united in marriage on September 25, 1944 to Luella Tatro. Ken owned his own milk route for Kraft Foods in Antigo and got the nickname "Tin Can Kenny."
Eventually relocating to Hartford for Kraft Foods as a field supervisor. He then worked at Stolper Steel in Menomonee Falls for over 14 years. Ken started Goeman's Wood Products, Goeman Trucking and Ener-Con with his sons and family and was still involved with Ener-Con.
Ken enjoyed coin collecting, hunting, gardening and playing cribbage. He spent time up North at the "shack" with family and friends. Ken was a charter member of the Allenton Lions Club.
Kenneth is survived by his companion, Elaine Gee; children; Danny (Annette) of Hartford, Larry (Mary) of Slinger, Gary (Kristin) Goeman of Crandon, Charlene (Jay) Schaefer of Madison, Linda (Cathy Suedbeck) Goeman of Nashotah, and Kurt (Judy) Goeman of West Bend; grandchildren; Michael Goeman Jr., Jamie Patin, Joe (Shelly), John (Michelle), Chad (Amanda Tracy) and Brian Goeman, Josh (Teresa) Joop, Chris (Krista) Wells, Nicole (Travis) Tompkins, Christopher (Jenni) Goeman, Katie (Eric) Muth, Andrea (Nick) Gatton, Rachel Ewert, Karen (Dan) Gross, Patricia and Melanie Goeman, Sammi (Kevin) Houle, Ashley (Josh) Pieper, Kimberly Haney, Shalyn (Gregg) Hineline, Jessica Schaefer, Joshua (Kinsey) Birkholz, Austin and Tanner Goeman; great-grandchildren, Michael A. Goeman, Alexandria, Caitlyn, and Emily Goeman, Zachery, Bryce and Braxton Patin, Nicholas (Hannah) Goeman, Chelsey Marie Krueger, Collin, Shayna, Holli, Thomas, Sara, McKenna Goeman, Billy Lutz, Nate, Amanda, Calahan, Ian and Jadzia Goeman, Mathew, Zachary, Logan, Braeden and Emmaleigh Joop, Kayla Story, Louis and Brendan Bartz, Mason, Sawyer and Trevor Tompkins, Liam and Helena Wells, Carter Goeman, K.J. McNealey Jr., Nolan and Alleta Gross, Wyatt and Hudson Houle, Brody and Evan Hineline, Catarina (Derrick Nipple) Haney, Ashley and Kara Haney, Gabriel and Grace Birkholz, Tim, Joshua and Jerry (Danielle) Yungen; great-greatgrandchildren, Xavier Krueger, Brayden Goeman, Adlyn Bunkoske, Anthony and Carmyn Yungen, Devin Haney, Ryan Yungen and Natalie Bierd; siblings; Joe (Jerry) Goeman, Emily McKenna, Allen (Marilyn) Goeman and Dale (Sandy) Goeman; also survived by nieces, nephews, other relatives and friends. Kenneth is preceded in death by his parents, his wife Luella; son, Michael; grandsons, Brett and Adam; granddaughter, Kelly Story; great-grandson, Samuel, great-granddaughter, Hannah Pieper and brother-in-law Eugene McKenna.
Funeral Services for Ken will be held at Divine Savior Lutheran Church, 3200 Highway K, Hartford on Thursday, August 17 at 11:00 AM. Visitation will be on Wednesday, August 16 at Shimon Funeral Home, 824 Union St., Hartford from 1:00 PM – 7:00 PM.
Continued visitation at the Church on Thursday from 9 AM until time of the service. In lieu of flowers, memorials to Divine Savior Lutheran Church are appreciated.
The family would like to thank Dr. Weber for his care for many years and the staff at Cedar Community, Aurora Medical and the Cancer Care Center for their care and support.