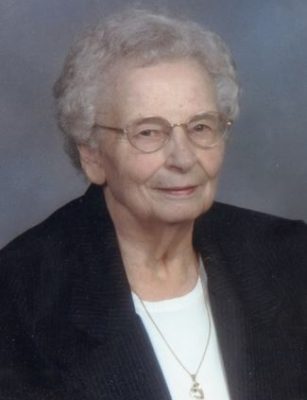 August 16, 2017 – West Bend, WI – Veryl D. Eichenseer (nee Frohmann), 97, of West Bend, passed away on Monday, August 14, 2017 at Cedar Bay East, West Bend.
She was born on March 13, 1920 to the late Edwin and Esther (nee Gruhle) Frohmann in Boltonville WI. She graduated from West Bend High School in 1937.
On September 12, 1945, she was united in marriage to Joseph R. Eichenseer in Fredonia.
Early in her work career she was employed as a secretary at the West Bend Company. She also served as secretary at Immanuel United Church of Christ where she was a lifelong member. Her office skills continued as a volunteer at the West Bend Red Cross for many years.
With either a book or her Kindle in hand, she was an avid reader and also loved to do crossword puzzles. The Brewers lost one very loyal baseball fan in Veryl, as she listened to, or watched every single game, cheering them on and keeping track of team stats. She was a loyal Packer and Badger fan as well. She loved to keep up on the lives of her beloved grandchildren and great-grandchildren. She will be dearly missed.
Those Veryl leaves behind to cherish her memory include her two children, Judie Opgenorth of Dallas TX. and John (Phyllis) Eichenseer of West Bend; four grandchildren, Jayson (Suzanne) Opgenorth, Nicholas (Cecilia) Eichenseer, Peter (Sheila) Eichenseer, and Benjamin (Julie) Eichenseer; eleven great-grandchildren, Zachary and Thomas Opgenorth, Olivia, Sophie, Emilia, Elsie, Ethan, Esther, Anne, John, and Andrew Eichenseer; many nieces, nephews, and other relatives and friends.
In addition to her parents, she is preceded in death by her husband Joseph; two brothers, Edwin (Esther) Frohmann and Orville Frohmann; and a son-in-law, Richard Opgenorth; three brothers-in-law, Vincent (Clara) Eichenseer, Casimir (Barb) Eichenseer, Alphonse (Hildegard) Eichenseer; three sisters-in-law, Abbie Elliot (George), Margaret Otto (Harold), and Helen Mannhardt (Edward).
A funeral service in remembrance of Veryl will be held on Friday, August 18, 2017 at 5:30 p.m. at Immanuel United Church of Christ, 501 Walnut St., West Bend.
The family will greet relatives and friends at the church on Friday from 3:30 p.m. until the time of service.
Memorial to Cedar Community in Veryl's name are appreciated by the family.