Obit: Lawrence J. "Larry" Mezera, 80, of West Bend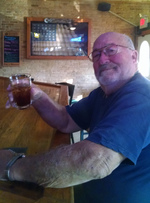 Oct. 3, 2018 – West Bend, WI – Lawrence J. "Larry" Mezera, age 80 years, passed away at home on October 2, 2018.
He was born in southeastern WI on March 15, 1938 to the late Raymond J. "Pappy" and Alta Hazel (nee Puckett) Mezera and grew up on many farms where he learned to work and play hard.
He was honorably discharged from the United States Army on July 31, 1967, rank SP4.
He married Kathleen "Katie" (nee Johann) on May 15, 1965 at St. Frances Cabrini Catholic Church of West Bend. They remained in West Bend, building their dream country home in 1980 where they raised their family.
He was a hard worker, with great work ethic, a tremendous sense of humor, and a deep love of music, all of which he instilled in his children. He tried retirement several times, but enjoyed being busy. He retired from truck driving for the final time in August 2017. As a talented musician, he played in the band Hickory Wind for many years. He was also always a farmer at heart, growing many different vegetables and flowers in two large gardens until this year.
With a deeply passionate and kind heart, Larry made friends wherever he went and loved to make people laugh with his one-liners. He was always there to help those in need, whether family, friend or acquaintance. One of his favorite "chores" was to feed and talk to the birds and the deer that stopped by his many feeders daily. He loved most of all, family jam sessions where everyone's old favorites were played. He loved life and lived it, loved his family and friends, and will be missed by all.
Larry is survived by his children: Shelly and Herb Schneeberg II, Terri and Roger Kutz, Lisa and Matt Brown; grandchildren Ryan Schneeberg, Katie Fitzgerald, Cindi (Billy) Cochnet, Beth Schneeberg, Herb (Lindsey) Schneeberg III, Bryan (Jess) Walbert, Ashley (Kyle) Lockwood; great-grandchildren Grace, Billy Jr., Keyanna, Aryanna, Lilyanna, Julianna, Elijah, Herb IV, Vinnie, Odin, Preston, Logan and Emerys; siblings Arnie (Kathy) Mezera, Phil (Marilyn) Mezera, David (Maggie) Mezera, Mike (Judy) Mezera, Linda (Leroy) Plautz, Tom Mezera and Sue Giese; sisters-in-law Barbara Landvatter, Mary Wolf, Sherry (Dick) Prost, brothers-in-law Mike Johann and Ken (Chris) Berkel. He is further survived by many nieces, nephews, and other relatives, best friend Pete, 6 granddogs, his family at the Copper Penny Restaurant, where he is loving referred to as "Dammit Larry", and countless cherished friends.
Preceded in death by his wife Katie; his parents; mother-in law Margaret Naumann; fathers-in-law Werner Johann and Sylvester Naumann; sister Lil Mezera; sister-in-law Sandy; brothers-in-law Roger, Dave and Al; nephew Jeremy Johann; nieces Jennifer Johann-Berkel and Laura Koehn; bandmate Bob Cross.
A Memorial Service will be at 6:00 pm on Tuesday, October 9, 2018 at the Phillip Funeral Home Chapel of West Bend. Visitation will be at the funeral home on Tuesday, October 9 from 4:00 pm until time of service (6:00 pm). Final resting place will be at Washington County Memorial Park.