Obit: Marilyn L. Tews, 86, Grafton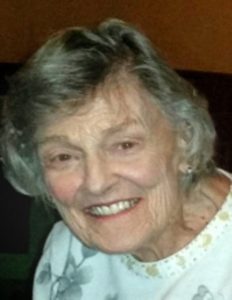 Marilyn Lois Tews, 86, of Grafton, Wisconsin was called home by her Heavenly Father on Sunday, September 4, 2016. Her family can only begin to imagine the joys and wonders of eternal living that Marilyn enjoys because of her Lord and Savior, Jesus Christ, whom she gladly confessed.
Marilyn was born on September 23, 1929, the only child of Walter and Lucia(Burkholz) Burhop. She was baptized into the Christian faith on October 13, 1929 at St Paul Lutheran Church, Grafton. She confirmed her Christian faith on March 29, 1942. Her life verse is Psalm 23:1 "The LORD is my Shepherd, I shall not want." She graduated from St Paul Christian Day School as the valedictorian. At age 14, Marilyn rode the Interurban to Milwaukee every school day to attend Lutheran High School. She graduated from LHS in 1947 as the class salutatorian. She attended many reunions with classmates. At an early age, Marilyn worked at her father's photography business, Laabs Studios, Grafton, as a model, receptionist, colorist and file clerk. Marilyn attended secretarial college at University Extension. At a basketball game in 1948, Marilyn met the love of her life, Gerald Allen Tews. After dating and courtship, they were united in marriage on May 14, 1949. The Lord blessed Jerry and Marilyn Tews with 29+ wonderful years together and the miracle blessings of four daughters, Linnae, Leanne, Lana and Laurel. They had their dream home custom built–including the masonry work crafted by Jerry–on Sixth Avenue in Grafton near St Paul's Lutheran Church. Jerry and Marilyn raised their family and stayed very active as servants of the LORD. They celebrated their twenty-fifth wedding anniversary with a trip to Hawaii. They enjoyed many summer weekends at their cottage on Pleasant Lake, Coloma, Wisconsin. After a brief battle with cancer, The Heavenly Father called Jerry Tews home to heaven on February 18, 1979.
Marilyn entered the workforce in 1980 as a file clerk/receptionist at St Michael's Hospital in Milwaukee for thirteen years. In 1993, Marilyn enthusiastically joined the real estate team of Hollrith Realty, Grafton. She thoroughly enjoyed finding just the right home for a family. Marilyn was an active member St Paul Women's Guild; Kennedy Evangelism Explosion; LWML; Homemakers Club; Sheepshead Club; Lutheran Hour Ministries and most recently Time Of Grace. Next to her faith in Jesus, Marilyn's greatest joy in life was her family. She was lovingly involved in each of her four daughters' lives. As each daughter journeyed through life and brought spouses and children into the family mix, Marilyn would devote special attention to each new relationship. Marilyn fervently prayed for every member of her family. She loved to host family gatherings and prepare delicious food including Schaum Torte. She spent hours shopping for the perfect Christmas or birthday present for each family member. She loved playing the piano and later listening to a variety of music especially played by her family. Many a memorable summer weekend was spent at the cottage with Grandma Tews. She was able to make several cottage trips this summer. A prayer shawl was presented to Marilyn by her caring friends at St Paul Lutheran Church and this shawl along with the prayers and visits of many were greatly appreciated during the difficult times.
Marilyn was preceded in death by her parent; her parents-in-law, Allen and Ada Tews and by her beloved husband, Jerry Tews.
Marilyn is survived by her four daughters Linnae Stewart of Grafton, WI; Leanne (Jon ) Bendewald of St Joseph, MI; Lana (Steve) Amenda of Grafton, WI; Laurel (Jeff) Brinkman of Oconomowoc, WI. Her Grandchildren include Nicole (Ben) Sanfelippo; Jon Neulreich; Michelle Bendewald, David Bendewald, Rachel Bendewald; Eric (Katy) Amenda, Alyson Amenda, Amber Amenda; Braeden (Amanda) Austin, Jerin Austin. Her Great Grandchildren include Kaden Sanfelippo, Levi Sanfelippo, Alessandra Sanfelippo; and Noah Austin.
The LORD God declared to Marilyn and to all who will listen, "I know the plans I have for you, plans to prosper you and not to harm you, plans to give you hope and a future. Then you will call upon Me and come and pray to Me and I will listen to you. You will seek Me and find Me when you seek Me with all your heart." Jeremiah 29:11-13
The Funeral Service for Marilyn will take place on Friday, September 9, 2016, 1 PM at St. Paul Lutheran Church, Grafton. She will be laid to rest at St. Paul Lutheran Cemetery. In state on Friday, at the church, from 11 AM until 12:45 PM. The Rev. Scott Kruse will officiate the services. In lieu of flowers, memorials to St. Paul Lutheran Church are appreciated.