Obit: Robb E. Schulz "Trucker Robb", 58,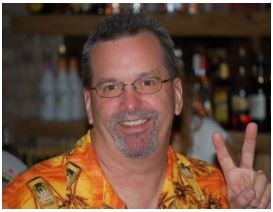 June 17, 2017 – West Bend, WI – Robb E. Schulz "Trucker Robb", 58, was dispatched to his final destination to heaven on Thursday, June 15, 2017.  Robb was born on November 20, 1058 in Milwaukee to Robert and Fay (nee Larsen) Schulz.  He delivered the greatest gift he could ever give to his own father on his father's birthday.  Robbs' CB handle was "The Lone Ranger."
In 1986, he met his sidekick "Tonto" and married her September 23, 1989.  Together, Robb and Kathy led a life like no other.  Through the ups and downs, the good and bad, they always stuck together to build the life most people yearn for.  There is no stronger of a couple than Robb and Kathy.  Though Robb is trucking on, those left behind will continue his legacy.
He is survived by his loving wife Kathy (Rehberg), his children Kelina and Billy, brother Todd (Julia), his "brother from another mother" Bobby (Carlene) Scherr, best man and former partner in crime Tim (Julia) Keith and family Brad (Kelly) and Kaela.  Robb also leaves behind aunts, uncles, and other relatives and a plethora of friends.  Robb was preceded in death by his parents; loving in-laws Bill and Evvie Rehberg.
Robb was a 1977 graduate of Slinger High School.  He was an avid athlete in school and was a member of the famous "Dream Team" that put Slinger on the map by going to the WIAA state basketball tournament.  Robb won first team all conference honors, and was offered a full ride scholarship to Carroll College, which he turned down to pursue the dream he had as a child, to drive truck.
During Robbs' 37 years of accident free driving, he logged over four million miles.  He was honored for his safe driving on many company levels, as well as state and national levels.  It is to be assumed that he has driven enough miles to have gone around the world 140 times.
Robb always had a love of sports, whether it was attending a game or watching it on the television.  His hobby was participating in fantasy sports (football and baseball).  Along with his sports interests, he loved calling in to an XM sports talk radio station while he was over the road, where the producers made a special cut of "East Bound and Down" and deemed it Trucker Robbs' theme song.
Robb lost his 20 month battle with head and neck cancer which spread to his lungs.  He amazed even the doctors with his strength and the fight he had in him.  He would always tell them "I'm not done yet, and I'm going to fight this until I take my last breath."
Remember Robb as being a family man.  Always looking out for his family and putting them first.  He was extremely proud of his children and his career.  Robb had better than perfect eyesight.  He had an incredible vision on life.
He always knew where to go and which path to take.  What that in mind, his family knew it would be the best decision to keep Robbs' giving spirit alive and donated his eyes, corneas, and tissue to the Lions Club of America Organ Donor Program.  Even in Robbs' passing, he gives back to someone in need.
A Funeral Service will be held at 7 p.m. on Wednesday, June 21, 2017 at the Phillip Funeral Home Chapel (1420 W Paradise Dr.) West Bend. Visitation will be at the funeral home on Wednesday, June 21 from 4:00 pm until time of service (7:00 pm).  In Lieu of flowers, memorials can be made to the Kraemer Cancer Center (3200 Pleasant Valley Rd, West Bend, WI 53095), or a charity of your choice.
The family cannot give enough thanks and prays to the exemplary medical staff at Froedert St. Josephs Hospitals and Clinics, and the Kraemer Cancer Center.  Dr. Brian Walters, Dr. John Burfiend, and Dr. Jarred Robbins, Dr. April Sherrah, Dr. Eric Olefson, and all the staff at St. Joes, especially all the Third Floor Med-Surge unit.  The "Candyman" thanks you.