Obit: Timothy F. Kraft, 60, West Bend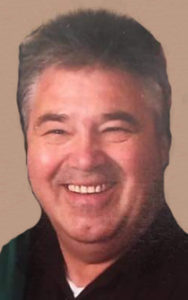 Timothy F. Kraft, age 60, died being a badass, riding his motorcycle on Tuesday, September 13, 2016.  He was born on September 10, 1956 to Frank and Kaye (nee Forde) in Devil's Lake, North Dakota.  He played softball and hockey all of his life.  He was the oldest of five children.  Tim graduated Park High in 1974 and decided to join the US Army and was eventually stationed in Fairbanks, AL.  He married Kathleen (nee Bardell) Kraft on May 2, 1996 with a beautiful ceremony in Disneyworld, FL.  He enjoyed working for the Washington County Sheriff's Department as a Corrections Officer.  Tim was very proud of finding his sobriety on December 16, 1992.  He treasured this and was always happy and willing to help those who wanted it.
Tim is survived by his wife, Kathe (nee Bardell); daughters Colie, Samantha and Cassandra Kraft; son Nic Bardell; mother; brother Greg (Shannon) Kraft, sister Nancy (John) Husbey; brother Jamye Kraft; parents-in-law Ken and Endie Bardell; sister-in-law Debi (Kip) Kusick; nephew Joel (Tay) Kraft and nieces Maddie and Carly Kusick.   He is further survived by other relatives and many friends.  Tim was greeted in Heaven by his father, brother Joel, grandparents and the mother of his daughters Laura Barry.
A Funeral Service will be at 5:00 PM on Monday, September 19, 2016 at the Phillip Funeral Home Chapel (1420 W. Paradise Dr. West Bend, WI 53095).  Visitation will be at the funeral home from 3:00 PM until the time of the service with Military Honors to follow.   Memorials appreciated to the family for a charity at a later date.