Obituary | Anna "Annie" M. (Neckuty) Manthei, 96, of Kewaskum
October 30, 2019 – Kewaskum, WI –Anna "Annie" M. Manthei (nee Neckuty), 96, of Kewaskum passed away peacefully on Monday, October 28, 2019 at Froedtert Hospital in Milwaukee.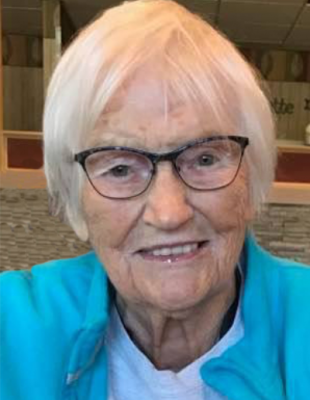 She was born on July 27, 1923 to the late Joseph and Veronica Neckuty in the Town of Mitchell, WI. On October 4, 1947 she was united in marriage to Willard "Squinty" Manthei at Peace United Church of Christ in Kewaskum. Annie worked at Regal Ware for 40 years as a press operator. She was a member of the American Legion as a Gold Star Mother, the Regal Ware 25-year Club, and Peace United Church of Christ. Annie enjoyed traveling to Florida and out west, and watching children over the years. She loved to cook, bake, go shopping, and gardening. Annie would do anything for anyone who needed a hand. She will be missed by all who knew her.
Those Annie leaves behind to cherish her memory include her three children, Robert (JoAnn) Manthei, Kim Manthei, and Brenda (John) Gitter; four grandchildren, Becky (Mathias "Duci") Dornacker, Robbie (Cheri) Manthei, Brandon (Michelle) Gitter, and Olivia (Beau) Backhaus; five great grandchildren, Mia Dornacker, Quin Dornacker, James Manthei, Hudson Gitter, and Knox Gitter; many nieces, nephews, other relatives and friends.
In addition to her parents, she is preceded in death by her husband, Willard "Squinty" Manthei; her two sons, Lyn Manthei and James "Jimmy" Manthei; her three brothers, John (Elaine) Neckuty, Stanley Neckuty, and Peter (Eleanor) Neckuty; her step brother, Victor (Alice) Hodoff; and her sister, Christine Neckuty.
A memorial service in remembrance of Annie will be held on Tuesday, November 5, 2019 at 4:00 p.m. at Peace United Church of Christ, 343 First St., Kewaskum.
The family will greet relatives and friends at the church on Tuesday from 1:00 p.m. until the time of service.
The Myrhum-Patten Funeral and Cremation Service have been entrusted with Annie's arrangements.