September 26, 2023 – Campbellsport, WI – On this solemn day, we gather to bid farewell to a precious soul who graced our lives ever so briefly. Arlo Charles Weinreich, a beloved son, born in the quiet town of Campbellsport, peacefully departed from this world on his birthdate, September 11, 2023. Though his time spent in the embrace of his loving parents and siblings was brief, his impact on our hearts will forever linger.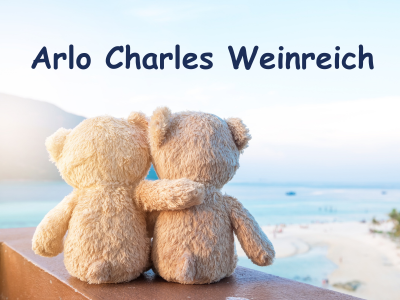 Arlo, a sweet soul whose potential brought so much joy, leaves behind a grieving family. His mother, Crystal Weinreich, and his father, Mark Weinreich, mourn the loss of their precious child. This tender existence, taken from them so unexpectedly, has touched their lives in a profound way and has left a permanent mark on their hearts.
Though he never had the chance to walk the path of education or embark on a career, his spirit will forever inspire us to hold on to the purity and innocence that shone through him. His siblings, Taylor & Wyatt Weinreich, will keep Arlo in their hearts every day as they care for their sorrowful parents. His grandparents, Kim & Sharon Weinreich of Fillmore and Micheal & Connie Frahm of Appleton, will keep Arlo in their hearts forever.
Arlo was greeted at the gates of heaven by his great-grandfather, Clayton Weinreich of Fillmore; his great-grandparents, Robert and Patricia Hamernik of Fillmore; and cousin, Adalyn Frahm of Appleton.
Arlo's family will hold private services at a later date at their family home, in honor of his life and passing.
In this time of sorrow, let us find solace in the beauty of Arlo's spirit, forever embraced by the love that surrounded him during his short time with us.
Arlo's family would like to extend great gratitude to the Fond du Lac County Dispatcher who took the 911 call, Kewaskum Fire and Rescue, West Bend Fire and Rescue, Froedtert West Bend Hospital Physicians, ED department and ICU as well as Officer Victor Schneider from the Fond du Lac County Sheriff's department for providing life-saving measures to Arlo's mommy.
Myrhum-Patten Funeral & Cremation Service has been entrusted with Arlo's arrangements. Additional information and Tribute Wall may be found at myrhum-patten.com