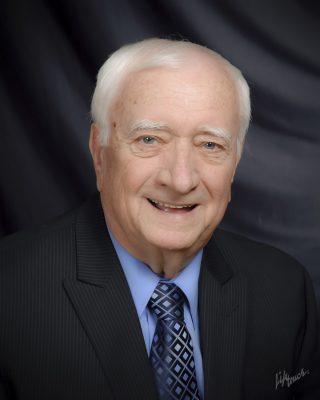 Nov. 5, 2018 – West Bend, WI – David Henry Engeleiter passed away on Sept. 30, 2018, at the age of 79. David was a loving husband, brother, father, grandfather and friend to many.
He was born on Nov. 13, 1938, in the town of Theresa, Wis., to the late Clarence and Adela (nee Schulz) Engeleiter, and married Vi Schuh on May 25, 1963, at St. Peter Catholic Church in Slinger, Wis.
The couple began their lives together in West Bend, Wis.  As his career progressed, they relocated to the Boston and Chicago areas before moving to Tustin, Calif., in 1974, where he lived with his family for the remainder of his days.
Dave grew up in West Bend. He was the sixth of eight children and graduated from West Bend High School in 1956 where he played football, baseball and basketball.  He furthered his education at the University of Wisconsin, Milwaukee.
Dave continued his passion for sports playing in the minor leagues of the Chicago White Sox organization for two years.  He played third base and had the opportunity to play with and against some of baseball's greats including Joe Torre and Tommie Aaron during this time.  When his playing days concluded, he turned his attention to coaching. In addition to coaching high school basketball, he spent more than a decade coaching in the youth sports organizations of his children, including Bobby Sox Softball and the American Fastpitch Association. He also stayed active in fundraising activities for those groups, as well as volunteering with Tustin High School. Always an avid reader, he also had a keen interest in historical information and loved to play golf with friends.
Professionally, he spent more than 45 years as a sales and management executive in the electronics components engineering and manufacturing field. Prior to his retirement, he was president of APT Electronics in Anaheim, Calif., where he had the privilege to consult and lead a team of very talented specialists. In addition, he had the opportunity to travel internationally, including visits to France, Israel and Mexico.
He is survived by his wife Vi, sisters, Leatrice Strupp, Delores Fischer, Minerva (Wayne) Nokes and Lou Ann (Gary) Riley, all of West Bend, Wis., children, Shelly (David IV) Roney of Castle Rock, Colo., Jay Engeleiter of Irvine, Calif., Tracy (Richard) McNiven of Huntington Beach, Calif., and five grandchildren, Brenden Engeleiter, David V and Myles Roney, and Colin and Caden McNiven.
He is preceded in death by his parents Clarence, Sr., and Adela, brothers Myles and Clarence, Jr., sister Betty Mollwitz, as well as four brothers-in-law, two nieces and a nephew.
A Memorial Mass will be held on Nov. 9, 2018, 10 a.m. at St. Cecilia Catholic Church, 1301 Sycamore, Ave., Tustin, Calif., 92780, with a reception to follow at Tustin Ranch Golf Club, 12442 Tustin Ranch Road, Tustin, Calif., 92782. A private internment will take place at Pacific View Memorial Park in Corona del Mar, Calif.