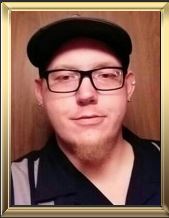 Oct. 25, 2018 – West Bend, WI – Jeffrey E. Verette, 34, passed away unexpectedly on October 24, 2018. He was born on May 25, 1984 to Earl C. Verette and Karrie (nee Kuntz) Gerritson. He graduated West Bend West in 2002. In his earlier years, he enjoyed snowboarding, skateboarding and football. Recently, his biggest hobby was using his strong artistic ability creating memorable drawings. Jeffrey will be greatly missed.
Jeffrey is survived by his mother, Karrie; sisters, Jackie (Jesse) Naumann, Becky (Travis) Rosine and Kim Gerritson; nieces and nephews, Parker and Aubree Naumann and Stella and Blake Rosine. He is further survived by his birth father, Earl (Rosalee) Verette, grandparents, aunts, uncles, other relatives and friends.
Jeffrey is preceded in death by his father, Scott Gerritson, niece Marlo Naumann, grandparents, Robert and Mary Verette and his grandfather Oliver Kuntz.
A Memorial Service will be at 1:00PM on Tuesday, October 30, 2018 at the Phillip Funeral Home Chapel (1420 W. Paradise Dr. West Bend, WI 53095). Private family Interment.