August 2, 2021 – Eugene A. Laufer of Montello, formerly of West Bend, died on Sunday, August 1, 2021 at Berlin Hospital at the age of 87 years. He was born on September 19, 1933 in West Bend to the late Mark and Agatha (nee Esselman) Laufer.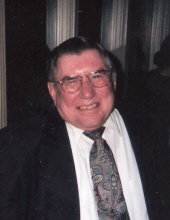 Gene attended Holy Angels Grade School and graduated from West Bend High School. In 1953, he was drafted into the United States Army, serving in Korea. Following his discharge in 1955, he returned to the West Bend Area.
On August 20, 1966, he was united in marriage to Glenda Oorlog at Holy Angels Catholic Church.
For 50 years, he was a dairy farmer in the Town of Trenton. Following his retirement, he and Glenda made their home in Montello.
He was a member of the West Bend Loyal Order of Moose, Lodge #1398, and Ducks Unlimited. He also was an avid sheepshead player and enjoyed hunting, mostly deer hunting.

Survivors include his wife Glenda; 2 children: Donald (Dawn Bellin) of West Bend and Susan of West Bend; 1 grandson Nickolas (Desiree Benzing); 1 brother James Laufer; 2 sisters Kathryn Wester and Sandy (Tony) Blake; 4 sisters-in-law Shirley Laufer, Gloria (Harold) Wiedner, Ginger (Don) Schuette, Gladys (Roger) List; 1 brother-in-law Mike (Ann) Oorlog; nieces, nephews, other relatives, and friends.
In addition to his parents, he was preceded in death by 2 sisters Doris (Daniel) Backes and Beverly (John) Winkler, and 1 brother Thomas Laufer.
A Mass of Christian Burial will be held on Thursday, August 5 at 11 a.m. at Holy Angels Catholic Church with burial following in the parish cemetery. Visitation will be at church Thursday from 9:30 until 10:45 a.m.
In lieu of flowers, memorials to the St. Jude's Children's Research Hospital or Boystown are appreciated.