November 15, 2019 – Town of Trenton, WI –Nicholas A. Habersetzer, 83, passed away on Thursday November 14, 2019 at the Clement Zablocki VA Center in Milwaukee.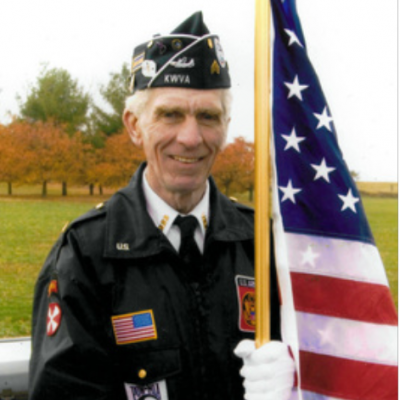 He was born on June 22, 1936 in the Town of Trenton to Nicholas L. and Loraine (nee Schaefer) Habersetzer. He graduated West Bend High School in 1954 and worked at the Gehl Company for 46 years, retiring as a Tool and Die Maker.
He enlisted in the Army, September 26, 1955. He was stationed in Korea in the Army 82nd Airborne Division and later worked in the 120th Medevac Hospital just outside of Incheon, Korea. He was discharged in 1958 at the rank of Spec-4 Army Corporal.
His life was centered around volunteering. He was an active member of Saint Mary's Immaculate Conception Parish, West Bend Honor Guard, volunteered for 19 years at the VA Hospital in escort services. He was active in various veteran activities and fundraising. He was a member of the West Bend VFW Post #1393, Allenton American Legion Post #483, the Korean War Vets, and the Knights of Columbus. He was known by many, but friend to all. He was known as Papa Nick to everyone. On July 30, 1960, he married Joanne M. Yogerst at St. Anthony Catholic Church.
Nick is survived by his children, Jeffrey (Beth) and Sandra (James) Tieglman, six grandchildren, Stephanie (Dalton)Miller-Johnson, Heather (Jonas) Moench, Nicholas (Berenice), Jonathan, Veronica and Annmarie Habersetzer, great-grandchildren Alex Ugarte, Leland and Evie Moench and Cullen Johnson. Special friend Doris Hammes, sister Lorraine (Arthur) Albers, sisters-in-law Marilyn Habersetzer, Virginia Habersetzer and Rosalie Gorecki, brother Robert (Geraine) Habersetzer. He is further survived by many nieces, nephews other relatives and friends.
He was preceded in death by his parents, his wife Joanne, brothers Joseph, Victor and Edward Habersetzer, sister Marie Pauls and brothers-in-law Robert Pauls and Gordon Gorecki.
A Mass of Christian Burial will be held Friday November 22 at 6 p.m. at St. Mary's Immaculate Conception Catholic Church, 406 Jefferson St. West Bend, WI 53090, with Rev. Nathan Reesman presiding. Visitation will be held at the church on Friday November 22 from 3:00 p.m. until 5:45 p.m. Full Military Honors will follow the Mass. Private interment will take place at St. Peter Cemetery in the Town of Farmington.
In lieu of flowers, memorials to St Mary's Parish or Relevant Radio are appreciated.