June 28, 2019 – Fond du Lac, WI –Patricia A. Rosenthal (nee Melby), 87, passed away peacefully on Friday, June 28, 2019.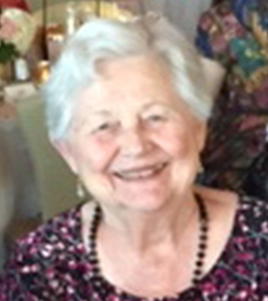 Patricia was born on March 14, 1932 in Westby, WI to Olaf and Ida (nee Solberg) Melby. Graduated from Cedarburg High School class of 1950. She married the late Ralph Rosenthal on April 19, 1952 and lived in California. The couple moved to Cedarburg where they started their family and later moved Jackson and eventually moving to Random Lake. Moving to Random Lake allowed Patricia to have the animals she loved. She had a passion for sewing and was a master seamstress and enjoyed making clothing for herself and for Ralph and their family. They also liked to ride motorcycles. After retirement, Patricia and Ralph moved to Fond du lac.
Particia is survived by her children Janice (Russell) Parker, Jim (Janet) Rosenthal and Jackie Rindt. She is further survived by her grandchildren Courtney (Jon) Janke, Zachary Parker, Justine (Josh) Glenn, Jaclyn Rosenthal, Bradley and Elizabeth Rindt, nieces, nephews, other relatives and friends. Preceded in death by her parents, husband Ralph and brother Robert Melby.
A Funeral Service will be at 12 p.m. on July 3, 2019 at the Phillip Funeral Home Chapel of West Bend with Rev. Paul Mittermaier presiding. Interment will take place at Christ Lutheran Cemetery in Jackson. Visitation will be at the funeral home on Wednesday, July 3 from 10 a.m. until the time of service (12:00 p.m.).
Memorials are appreciated to Christ Lutheran Cemetery Fund (c/o Christ Lutheran Church, N168 W20152 Main St., Jackson, WI 53037) or St. John's Lutheran Church -ELCA (2881 Division Rd., Jackson, WI 53037).