June 6, 2022 – Fillmore, WI – Roger L. Degnitz, 82, of Fillmore, passed away on June 5, 2022, surrounded by his family.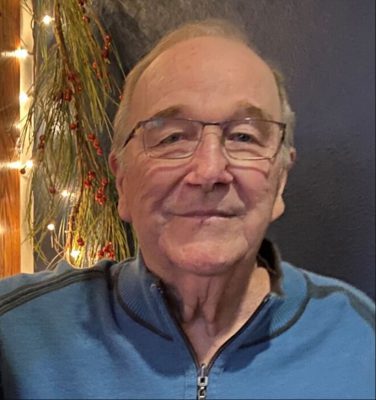 Roger was born on September 15, 1939, to the late Carl and Elsie (nee Mueller) Degnitz. He graduated from Random Lake High School in 1957, attended Lakeland College, and served in the Navy.
Roger was united in marriage to Rosalyn Hauch on June 3, 1961, at St. Martin's UCC. Roger created his Insurance Agency in 1971 in Fillmore out of his home and became well known in his community for taking care of his clients. He took pride in his agency and communing with those even after he retired. He loved ALL sports including the Green Bay Packers, Milwaukee Brewers, Milwaukee Bucks, and Wisconsin Badgers. He attended many games and events. He loved golfing, snowmobiling, bowling, card club, shooting pool, and going to his cabin in Rib Lake. He also enjoyed "hunting", shaking dice, and having cocktails with family and friends.
Roger was a long-time member of the Farmington Turner Society and a founding member of the Farmington Athletic Club. He was the President of St. Martin's UCC and Fillmore Union Cemetery for decades. He also was a member of the Fillmore Fire Department, Fillmore Sportsman Club, and West Bend Moose Lodge.
Those Roger leaves behind to cherish his memory include his wife, Rosalyn Degnitz; a daughter, Renee (Jerry) Esselmann; a son, Ryan (Diana) Degnitz; four grandchildren, Zachary Esselmann, Chelsea (Jeremy) Mueller, Tyler Degnitz, and Trevor Degnitz; a sister, Shirley Lubbert; a brother-in-law, Allen (Mary) Puestow; two sisters-in-law, Luella (Harley) Pufahl and Margie Hauch; many nieces and nephews.
In addition to his parents, Roger is preceded in death by his siblings, Merlin (Margie) Degnitz, Bernice (Willard) Hammen, Betty (Gerald) Klumb, Donald (Anita) Degnitz, and Janet Puestow; two brothers-in-law, Raymond Lubbert, and John (Donna) Hauch.
VISITATION: The family will greet relatives and friends on Tuesday, June 14, 2022, from 3 p.m. until 6 p.m. at St. Martin's UCC, 592 County Road H, Fredonia.
MEMORIAL SERVICE: A Memorial Service with Military Honors for Roger will take place on Tuesday, June 14, 2022, at 6 p.m. at St. Martin's UCC with Reverend Dan Noennig officiating. A private burial for Roger will take place at a later date.