Services today, Sept. 7 for Scott David Tracy, aka Scooby, 60, of Adams
August 27, 2019 – Scott David Tracy, aka Scooby, 60, of Adams, Wisconsin, died August 23, 2019 of complications from COPD following a life-long struggle with lung-related health issues.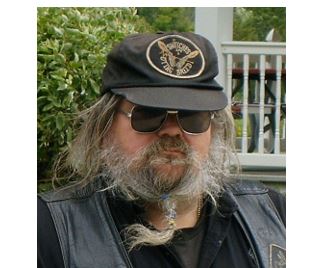 Scooby was born April 2, 1959, the fifth of six children born to Herbert Earl and Irma Hattie (Krubsack) Tracy. He is survived by four brothers, a sister, one brother-in-law, many nieces, nephews, cousins, and friends. His parents, aunts, uncles, several cousins, sister-in-law, dear friends, and neighbors preceded him in death.
Originally from Mayfield (Katzabach), Wisconsin, Scott attended primary school in Slinger and completed his formal schooling with a GED. His many interests and abilities led to a diversity of occupations, including power line work, building, remodeling, park maintenance, demolition, truck and taxi driving, and most recently scrapping metal and other salvageable materials.
Those who looked beyond the surface of his long hair and beard earned the chance of a loyal, adventuresome friend who was an insightful observer of human nature, a visionary artist, a social coordinator magnetic to children and animals, and a long-time promoter of the brotherhood of motorcyclists throughout Wisconsin, the United States, and beyond.
Friends and family are invited to attend his remembrance at Herman Taylor Funeral Home, Wisconsin Rapids, from 11 a.m. until 2 p.m. Saturday, September 7, and burial immediately after at Forest Hill Cemetery. The family requests no flowers, please.
Despite the many pneumonias that challenged his health, Scooby remained unstoppable. The family wishes to thank the health care professionals who helped Scott over the years, including Aurora Health Care-West Bend and Mile Bluff Medical Center-Mauston.
Specials thanks to Lifestar EMS-Adams, Gundersen Health System, UW-Health Trauma and Life Support Center-Madison, and UW Organ and Tissue Donation for their exceptional interventions that allowed Scooby to help others through his gifts of organ and tissue donation.