September 6, 2023 – Hartford, WI – Wallace A. Rettler, 92, of Hartford, Wisconsin, passed away peacefully at Serenity Villa in Slinger Wisconsin, surrounded by his family on Sunday, September 3, 2023.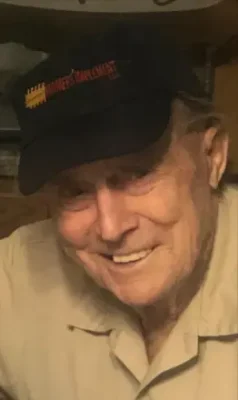 Wallace was born on August 29, 1931, to Eleanor (nee Gehring) and John Rettler in Hartford Wisconsin.
He graduated from Hartford United High School in 1949.
Wallace was united in marriage to Anna Maria (nee Muesch) on June 25, 1955, at St. Kilian Catholic Church in Hartford, Wisconsin.
Wallace was born and raised on the farm where he lived for 92 years, he was a farmer all his life and worked hard to support his family and to help others.
When he wasn't farming, Wallace loved attending his kids and grandchildren's numerous sporting events and was known by many as the "historian of the neighborhood."
Wallace is survived by his wife of 68 years Anna Maria; children, Mark (Sue) of Hancock WI, Luke (Chris) of Brooklyn NY, Paul (Jane) of Clyman WI, John (Joann) of Neosho WI, Peter (Kelly) of West Bend WI, Anne (Steve) Ledwith of Neenah WI, Mary (Whitey) Wagner of Hartford WI; grandchildren, Matt (Jess), Michael (Amber), Stephen, Kenny (Jo), Trina (Jake), Cindy, Hattie Mae (Chase), Leeander, Brady, Jessica, Jacob (Ashley), Joe, Justine (Andy), Justin (Dana), Austin (Briana), Quintin (Brooke), Paytin, Jack (Sarah), Drew, Max, Maddie, Mitchell, Nicholas, Zachary, Andrew, Mason, Logan (Kelley); sister, June (Charlie) Hagen; sisters-in-law Gertie Krebs, Marlene Muesch, Katie Pfeifer, and 24 loved great grandchildren.
He is preceded in death by his parents, John and Eleanor Rettler; siblings, Sylvester, Eugene, Leeander Rettler, Valerie Heppe; grandchildren, Claytin and Lexy Rettler; and many other cherished relatives and friends.
In lieu of flowers, memorial contributions to St. John's Catholic Church and or The Village of Plover Korean War Memorial are greatly appreciated.
The family would also like to extend a special thanks to the Serenity Villa and Preceptor Hospice staff for their care.
A Mass of Christian Burial for Wallace will be held on Thursday, September 7, 2023, at 5 p.m. at St. John's Catholic Church in Rubicon Wisconsin with Rev. Britto Suresh officiating. Family will greet relatives and friends from 2 p.m. until 4:45 p.m. A private burial will be held at
St. Kilian Catholic Cemetery.