November 11, 2019 – West Bend, WI – The new Billy Sims BBQ will officially open today in the Washington Plaza, 1442 W. Washington Street, in West Bend.
Former NFL player Billy Sims will be coming to West Bend to participate in a couple grand opening events.
The store in West Bend opens with a ribbon cutting around noon today.  Sims is set to arrive in West Bend on Thursday, November 14.
Possible school event Friday afternoon, Friday evening 5 p.m. – 7 p.m. dinner rush with Billy (autographs and giveaways)
A grand opening is set for Saturday, November 16 from 11 a.m. – 1 p.m. lunch and 5 p.m. – 7 p.m. dinner with Billy (autographs and giveaways)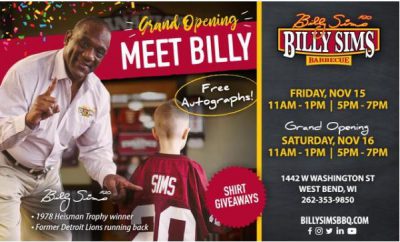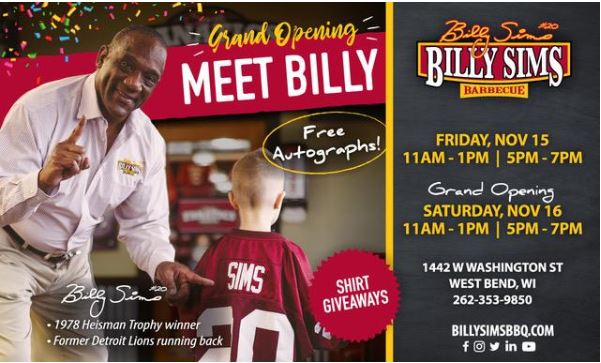 Billy Sims BBQ in West Bend is also hiring.  Click HERE or the link below for more information.
Looking for ENTHUSIASTIC INDIVIDUALS with food service experience to join Team Billy management in West Bend, WI.
Is that you? Start immediately.
💵 Competitive pay
☀️ Day/evening shifts
👕 FREE uniform
🍖 Employee discount
📆 Flexible schedule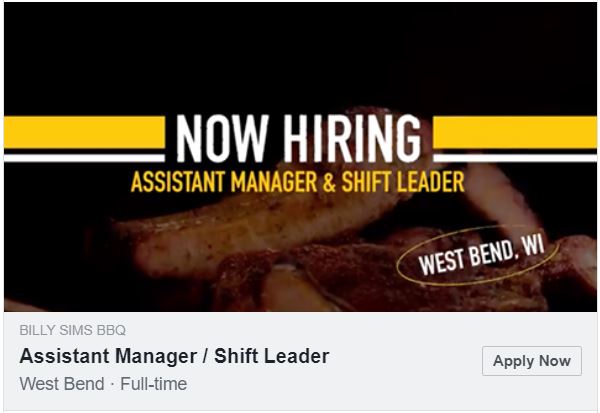 Cover photo courtesy Billy Sims BBQ.