November 11, 2019 – West Bend, WI – American Companies of West Bend is pleased to announce the recent completion of a 36-unit apartment building at 2075 N. Cambridge Ave, Milwaukee.  The contemporary four-story apartment building features studio, one bedroom, and two-bedroom units, close to the UW-Milwaukee campus.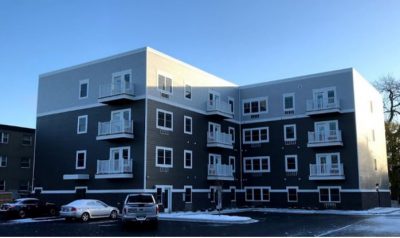 Adam Hertel of American Architectural Group worked with property owner, Don Heinemeier of Cambridge North, LLC, to design the units which feature large walk-in closets, in unit laundry facilities, an elevator and balconies for the upper units.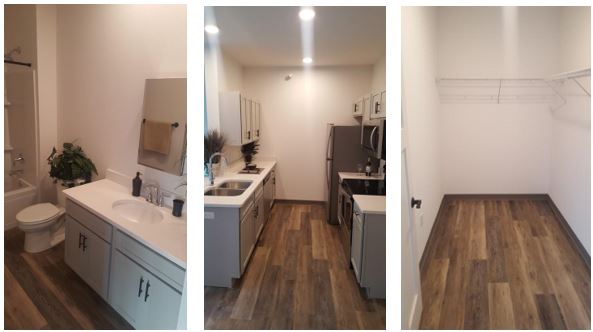 "The property was home to two duplexes.  Because they were built prior to 1929, the city required the buildings be deconstructed vs. demolished," said Stephen Houdek, site manager for American Construction Services.  "The lot was almost an acre which allowed us to build large units for the area and have room for off-street parking.  It's situated between two existing apartment buildings and is a good fit for the neighborhood."
This was the first deconstruction project in the City of Milwaukee since the passage of an ordinance in January, 2018 which hopes to create a new market for repurposed building materials, reduction of waste and job creation for Milwaukee residents.
Kivley Property Management has been contracted to manage the units and can be contacted at (414) 431-3859 regarding availability.
About American Companies
Together, American Companies are a full-service Commercial Design l Build l Develop l Real Estate firm which includes American Construction Services (ACS), American Architectural Group (AAG) and American Commercial Real Estate (ACRE).  Since 1980, ACS and AAG have built a solid reputation through their expertise in construction management, architectural design and structural engineering.  ACRE was added in 2018 to round out their portfolio by offering property sales, leasing, management and investment services.
American Companies are based in West Bend, WI and serves the northern Midwest states.  They specialize in commercial and industrial buildings including hospitality, medical, retail and multi-family facilities.
At American Companies, "Our job is to allow you to do yours."