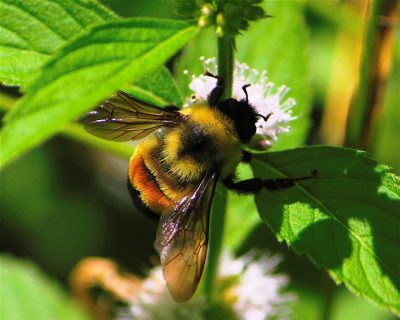 Washington County, WI – The Kettle Moraine State Forest – Northern Unit's Summer Saturday Evening Events continues with
the program, "Our Native Pollinators." The program will be held on Saturday, July 27, from 6:30 p.m. to 8:00 p.m. at the Ice Age Visitor Center. The Center is located at N2875 Hwy 67, Campbellsport, which is half mile west of Dundee.
Thanks to the support of the Friends of the Kettle Moraine, the program is free, but donations are always gratefully accepted.
Native pollinators from bees to butterflies are an amazingly diverse and vital group of organisms. Join Thelma Heidel-Baker as she covers their biology and what that means for protecting these insects. Hear about the issues surrounding these keystone species as well as ways you can create pollinator habitat in your own backyard. And learn more about some special Wisconsin pollinators that need our help, like the endangered rusty patched bumble bee.
The evening presenter, Thelma Heidel-Baker, is an entomologist, insect conservation specialist, and organic farmer. She seeks novel ways to incorporate beneficial insect conservation into all landscapes, from gardens to farmland.
For further information, contact staff at the Ice Age Visitor Center. The center's phone number is 920-533-8322 and is open Monday through Friday from 8:30 a.m. to 4:00 p.m., and on Saturday and Sunday from 9:30 a.m. to 5:00 p.m.
Photo courtesy: Wikipedia