August 23, 2021 – West Bend, WI – The Museum of Wisconsin Art's 2021 Art & Chalk Fest People's Choice Winner was Kaylee Goodman of Hartford and portrait of Amelia Earhart.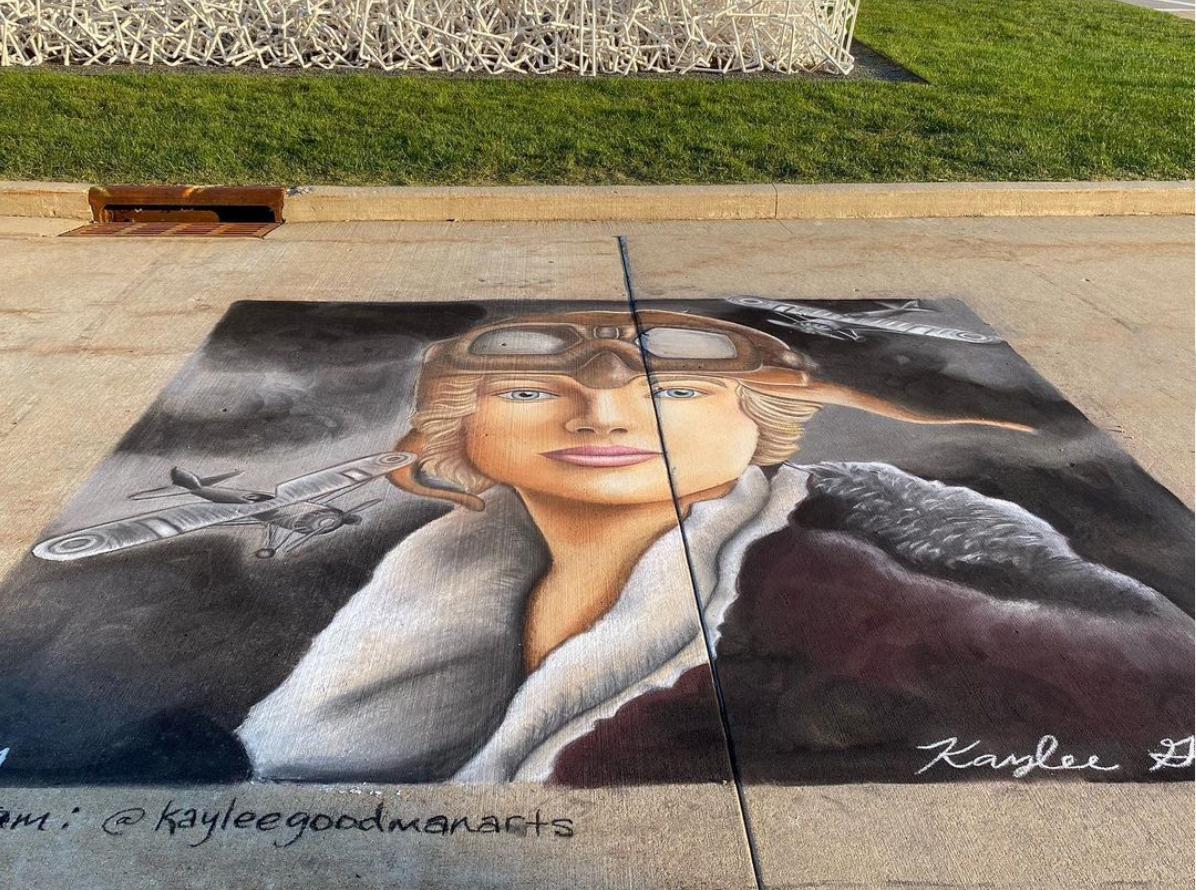 Goodman, 17, chalked a portrait of Amelia Earhart.
Kaylee Goodman is one hot mess, but in a good way. The smiley teen is a making her mark as a budding chalk artist.
Armed with a case of soft pastels and brilliant fluorescent sticks of chalk, Kaylee sits down on her pallet of hard concrete and gets lost in the zone.
This isn't school-yard scribbling, but a splash of magic that pours from the stained fingertips of a 17 year old.
"If she's late for supper we normally find her in the driveway," said mom Sandi.
She good naturedly chides her daughter on how she leaves her own unique Hansel-and-Gretel trail of breadcrumbs. "We know when she's been in the car because there's a chalk smudge on the visor," she said.
Most often Kaylee's face looks like she's been made up for a school play as there's streaks of chalk across her forehead and often the bridge of her nose.
Though it all, Kaylee smiles.
"I originally went to Chalk the Walk in West Bend at the shopping mall on S. Main Street and I chalked a mermaid," said Kaylee.
The larger-than-life mermaid with long, flowing hair and flared blades of a fish tail caught the attention of teachers who referred Kaylee to a show at the Museum of Wisconsin Art.
"It was past the deadline and I didn't think I could get into their event but they still wanted me," she said.
The Art & Chalk Fest in West Bend was a sunny day and a bit of a swelter; at least that's what Kaylee remembered.
"It was very warm and I chalked both days but it was fun," she said.
"I've done chalk drawings for a couple years and there's something different from just drawing on a piece of paper. I love how you can get creative, even on concrete," she said.
Kaylee reminisces about her early career and waves it off as a learning experience when she talks about her "nothing drawings."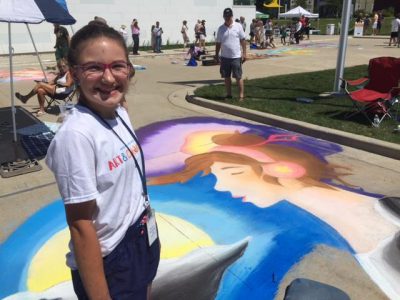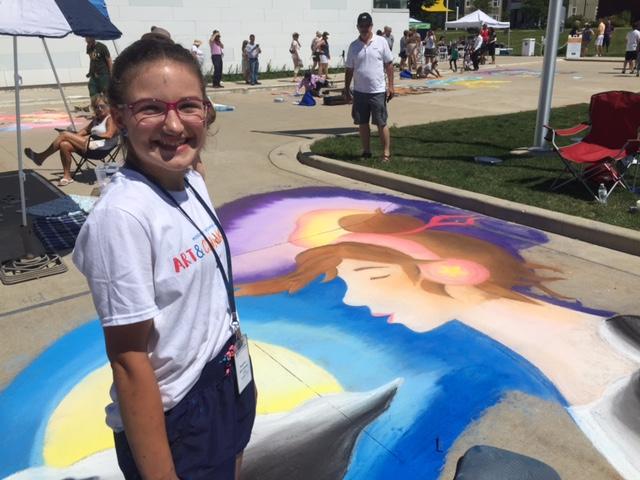 "They were stick people when I started but I ventured into faces and people and I'm getting better; now I kind of show off what I can do," she said.
Art teachers in the Slinger School District have worked to give Goodman confidence. "They tell me I'm very good," she said modestly.
Sandi chimes in. "We could draw something in chalk and it would literally look like that thing," she said. "But when Kaylee chalks … it's as if they're right there. People are also starting to recognize her and she's so dedicated."
Kaylee does most of her initial drawings in sketch books. "After I sketch, then I ink and then color with marker," she said. "I normally get them printed before an event so I can sell them to make money to cover my chalk supplies."
A working artist, Goodman said she's currently focused on drawing people but she is trying to broaden her horizons with shadowing and landscapes.
On a sunny afternoon, Goodman can be found colorful chalk in hand in her driveway just south of Pike Lake State Park. While her pallet is a little rocky in some areas she has a large, smooth patch closer to the house.
"Kaylee can sometimes get swallowed up by the expansiveness or her pieces," said Sandi. One piece measured about 40 square feet. "We just can't get that big again," she said.