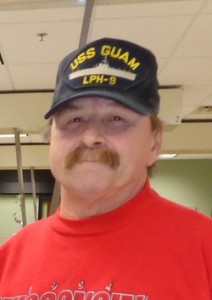 Edward (Ed) John Pfeiffer, 69, of St. Kilian, passed away Wed., Dec. 30, 2015, at home with family and Hospice Advantage staff, after nearly a year long struggle with cancer.
Ed was born in Racine on July 27, 1946, the son of Michael and Ann (Seibert) Pfeiffer.  He attended Racine schools until he enlisted in the US Navy, serving from 1963 to 1967 aboard several carriers.  Ed was a Plank Owner on the USS Guam LPH9 and on September 15, 1966, while serving on the Guam was part of the recovery at sea of the Gemini 11 astronauts and space capsule.
After his military service Ed worked at various businesses on the East coast, in Racine, at The Threshold, Inc., in West Bend, Fond du Lac Mattress and retired from AS&T in St. Kilian as an inspector. He married Mary Haugli on November 28, 1981 in Elk Mound, WI.  He enjoyed sports and while in school he played football and later played in various softball leagues throughout the area.  Ed enjoyed fishing with family and friends while camping at various lakes in Wisconsin.  He could often be found purchasing lottery tickets which 2 years ago and shortly before his wife retired, resulted in his winning Badger 5.
Ed is survived by his loving wife Mary, his daughter Patricia "Trish" (Chris) Spalding of Mississippi and his grandsons, Vincent, Andrew and Joseph Motzkus. He is further survived by his brother Michael (Josie) Pfeiffer of Kewaskum, his mother-in-law Catherine Hustad of Barron, WI, brothers-in-law Orrin (Judi) Haugli of Janesville, Paul (Katie) Haugli  of Elk Mound and John (friend Vicki) Haugli of Menomonie, a sister-in-law Anita (David) Immel of Fond du Lac, nieces, nephews, other relatives and friends.
Preceding him in death were his parents, two sisters; Donna (Barootian) LaPlante and Carol Stewart, father-in-law Orrin Haugli, Sr., step father-in-law Roy Hustad, niece Tiffany Haugli and nephew John Barootian.
Visitation will begin at 12 noon on Sat., January 9 at the Twohig Funeral Home, 109 W. Main St., Campbellsport, with a 2:00 PM Memorial Service and Military Honors.   Rev. Roger Clapp will officiate. Entombment will take place on a later date at Southern Wisconsin Veterans Memorial Cemetery, Union Grove, WI.
In lieu of flowers, memorials in Ed's name can be directed to First United Methodist Church Roof Fund, Campbellsport or to the family.
Sincere thanks to Dr. Mooney, Joanne, Dr. Robbins, Dr. Smale, Dr. Griswold and Hospice Advantage, especially Nurse Pam Faeh, aide Dawn and Chaplain Steve, for the care given Ed.
Twohig Funeral Home, Campbellsport, is serving the family with online guestbook and condolences at www.twohigfunerals.com.