Plans for former Ponderosa building to go before West Bend Plan Commission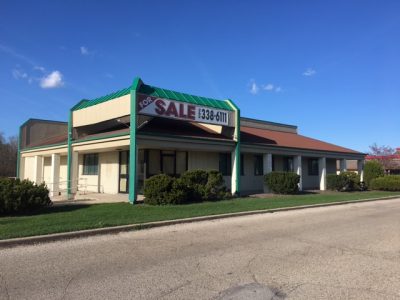 April 24, 2017 – West Bend, WI – "

We have a purchase agreement in place," said Mark Miller, a partner in Pizza Ranch West Bend, LLC. "We're going to be taking the old Ponderosa, owned by Steve Kilian.
"

After what our group has been through with the second site across the street, nothing is certain until all the due diligence is completed and signatures are in place," he said.
The news is a win-win for the community of West Bend which has been proactively pleading on social media for an agreement between the two parties.
For the past year, since its initial announcement in March 2016, neighbors have been supporting the development of Pizza Ranch in West Bend. Many chimed in on social media, itching for the restaurant chain to take over the old Ponderosa building on W. Washington Street which has been vacant since Kilian purchased the property in 2011.
During a Friday afternoon conversation, Miller acknowledging the Ponderosa parcel was actually one of their first preferences.
"

We looked at this property a while back, but because of the higher price we didn't really think it made sense," said Miller. "After considering the better location with the frontage road, we are real comfortable with the whole situation and we signed the purchase agreement. Steve Killian has been excellent to work with in putting this deal together."
As far as the timeline on moving forward, Miller said it should be rather swift. "The nice thing about the old Ponderosa is it has concrete walls, which we can keep as well as the steel roof support. We'll completely gut the interior and upgrade the facade to Pizza Ranch standards."
Miller said the "site also requires no excavation work, allowing for a quicker start."
Miller said that the principal owners Matt and Stacy Gehring will be managing the property.
The due diligence, according to Miller is underway and the hope is it moves quickly and folks in West Bend could see construction underway as soon as June.
"This property was previously a restaurant, so there should be no zoning issues," he said. "We are very excited to be coming to West Bend."
A date on when the Pizza Ranch proposal will go before Plan Commission has still yet to be scheduled. The earliest could possibly be May 2, but that has yet to be confirmed.
On a history note: Steve Kilian purchased the old Ponderosa property, 2020 W. Washington St., in October 2011 for $920,700; it had been on the market for three years listed at $1.5 million.
The parcel is 4,906 square feet. At one time Leitheiser Car Co. temporarily leased the Ponderosa space while road construction went on in front of its location on County Highway P.