May 8, 2023 – Fond du Lac Co., WI – The Fond du Lac Police Department is seeking assistance from our community.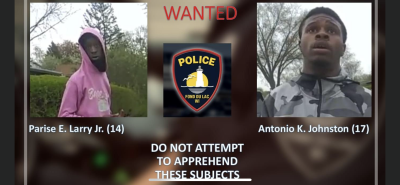 FDLPD has entered temporary Felony warrants for two persons of interest involved in a shooting in the 800 block of Martin Avenue on May 7, 2023 at approximately 6:50 p.m. that resulted in the death of one victim and critically injuring two additional victims.
Temporary Felony Warrants were entered for Antonio K. Johnston (17-years-old) and Parise E. Larry Jr. (14-years-old).
FDLPD will also hold accountable anyone who intentionally aids and abets these two persons of interest as a party to crime.
***Do not attempt to apprehend these subjects****
If you have seen or know the location of these subjects contact:
– The Fond du Lac Police Department Dispatch: (920) 906-5555
– Lead Detective Nick Hahn: (920) 322-3721
– Crime Alert Line: (920) 322-3740 (Callers can request to remain anonymous)
The investigation into this incident is at the preliminary stages and remains under active investigation. No further details or information are being released at this time.