Power outs in Germantown, Richfield, West Bend and surrounding counties
April 14, 2018 – West Bend., WI – High winds and some late-season wintry weather are being blamed for poor road conditions and power outs in the West Bend/Washington County area and in neighboring counties.
About 75 We Energies customers in Germantown are without power this Saturday afternoon. In Washington County 945 customers are without power.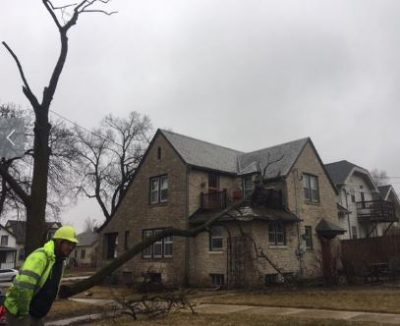 WisDOT reminds motorists across Wisconsin to plan for hazardous travel conditions as a winter storm passes through the state this evening through Sunday.
Severe weather conditions will include up to 12 inches of snow in northern Wisconsin and heavy rain to the south which could lead to icy conditions. Strong winds have the potential to cause drifting and blowing snow. Visibility will likely be an issue due to high winds, which could reach up to 50 MPH.
Motorists may want to cancel or delay travel plans and are advised to reduce speed when road conditions are hazardous and there is reduced visibility. The Wisconsin Department of Transportation (WisDOT), including the Wisconsin State Patrol, will closely monitor road conditions as the storm moves into the various regions.
WisDOT advises motorists to check road conditions before traveling by calling 511 or visiting www.511wi.gov.
If you must drive during winter storm conditions – Be prepared:
– Allow plenty of extra time for travel
– Drive at a safe and legal speed for conditions: the 55 or 65 mph speed limit is a maximum speed
for times when conditions are good/ideal, not for when roads are slippery and visibility is reduced
– Leave plenty of room between your vehicle and others for stopping
– Drive alert and sober
– Always wear seatbelts
– Keep a charged cell phone hand