Allenton, Wi – After 70 years in business, Romie's BP in Allenton has been sold. John and Diane Breuer were the last of the Romie's family legacy to own the gas station/convenience store which got its start in the red brick building next door as a Nash car dealership.
"My great grandfather started the gas station / Nash dealership in 1900's," said Breuer about his great grandfather John Ruf. "He ran that with his son Joseph, and it was J. Ruf and Son's Garage."
Click HERE to SUBSCRIBE to FREE local news at
The change from a car dealership came when Nash sold. "Corporate wanted my great grandfather to move and build a dealership in West Bend," said Breuer. "He said he lived in Allenton and wanted to build here, they wouldn't let him, so he said, 'take your Nash dealership and go' and he stayed in the repair business."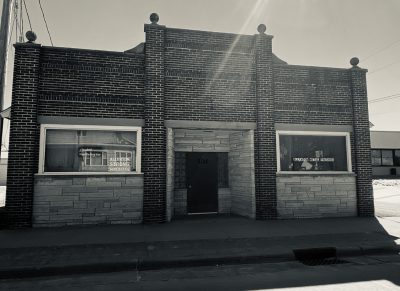 Back then, the red brick building housed the auto repair shop and there were two gas pumps by the road. "If you remember turn of the century the car business had gas pumps out front for the convenience of their car customers," said Breuer. "It was kind of like a one stop shop for your car needs; that was when it was still full service with oil, regular gas or ethyl or premium."
In 1953 Breuer's grandfather, Joseph Ruf, built the first gas station just to the west of the red brick building. "He ran that with my dad, Roman Breuer," said John.
The gas station was a simple block building with two box-style stainless steel pumps on a small island. The Mayberryesque station included a pair of elongated fluorescent lights stretching its long arms from the middle of the island; a wooden backboard and basketball hoop on the east side of the building, a triangle Blatz beer sign in the shop window advertising cold beer and soda and a boxy green-and-white 7up machine that hummed a couple feet from the building.
Remodeling was done over the years including the addition of a canopy and 20 feet of space added on the west side.
The progression of gas stations was everchanging as Breuer said they morphed to snack shops and later convenience stores.
"We initially had about 700 square feet and carried coffee, bread, milk, eggs… it was all in reach-in coolers," said Breuer. "Now we have a 4,000-square foot convenience store and in today's world, that's a small store."
Breuer has been working the in business since he was about 12 years old; he has seen times and technology change and said gas stations tended to set the pace. "The new trends made their debut in the convenience store industry because they get people as they're traveling," he said. "We have such an autonomous society; everyone wants everything today in their car. Our wholesalers say the first time you see something is in a convenience store because that's where people are."
Prior to beer caves and gaming machines, Breuer recalled the days of people stopping for a newspaper and bakery.
"We used to sell 40 to 50 Sunday Milwaukee Journals," he said. "To be honest with you, we sell two or three Journal Sentinels today, and maybe 10 Sunday Journals. People don't get their news like that nowadays.
"We used to get fresh bakery delivered by Old Fashioned Bakery out of Slinger or West Bend. Then we had Granddad's Bakery out of Hartford and later Sweet Creations, but we can't get it delivered now and nobody wants to get up at 3:30 a.m. to go get donuts."
Breuer could tell the change in seasons by the traffic at Romie's. "You knew when summer would come around because you'd see more kids at 5 o'clock," he said. "Or you could tell when baseball season was starting in town because the parents had to bring the kids in for practice and the ice cream and soft-serve machine would start going a little bit more."
Breuer and his wife Diane eventually purchased the station from his parents in 1988.
Their decision now, to sell the business and the building after 35+ years, has been in the works for a while. When they discussed the opportunity with their children to take over, neither was interested.
After a couple of potential offers crossed the table, the Breuer's finally signed a deal with Naseem and Naheed Abbas and they officially took over February 28, 2023.  The couple, originally from Pakistan, live in Germantown and own similar locations.
Questioned what he will miss the most, Breuer said "the employees and the customers."
"I'm a people person by nature," he said. "I like to visit and talk and share stories but I'm active in a lot of things. So, I'll miss it, but I have no regrets.
"I do want to thank the community for always helping support us. It's the nice part of living in a small town."