Real Wealth Weekly: Meet financial advisor Juli McNeely – encouraging women to succeed in the financial industry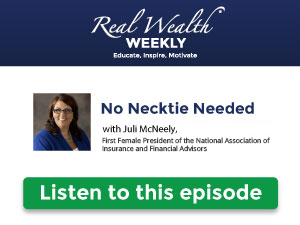 March 8, 2017 – Kewaskum, WI – When you think of a financial advisor do you picture a man? Meet Juli McNeely, Financial Professional and former President of the National Association of Insurance and Financial Advisors.
In her new book and on this episode "No Necktie Needed" she tells the story of how she thrived in a male-dominated industry, and how she's inspiring her fellow advisors to educate and engage women as more and more females become primary breadwinners and decision makers.