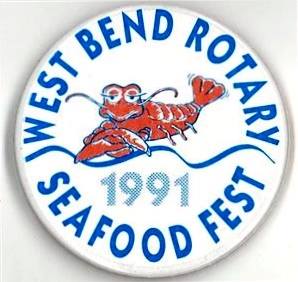 A bit of history on Seafood Fest.
The event dates to June 1991. There were 11 large white tents that would span the block on N. Main Street in front of Regner Park. Friends would exchange cash for grey-colored tokens (Barb Justman was a fixture in that tent).
Neighbors would gather to enjoy outdoor music, beer and seafood including clam chowder, fish n' chips, shrimp, crab legs and scallops and don't forget the lobster. Some 300 to 800 lobster would be flown in from Maine for the event.
Volunteers would gather behind a big tent and unpack crates of lobster and aim them at boiling pots of water. Some familiar faces included Ron Spears, Jerry Mehring, Jim Heiligenstein, and Rick Steiner.
Ken Pesch could always be found cleaning the grounds and John Hafeman would often be serving up cold beer.
There were white plastic bibs with a red lobster printed on the front to catch buttery drips. Sturdy paper plates would be served with russet potatoes, corn on the cob and a small paper cup with melted butter to dunk the full lobster or lobster tail. Over the years the event grew to include a show with artisans and events for kids. The Sunday Seafood Fest was also the gathering place for a beer following the Bob Cross Run.
Peter German writes, "The idea for Seafood Fest came from a Rotary Club in Marquette, Michigan. West Bend Rotary members traveled to the Marquette, MI to see how their Fest was run and were impressed.  The idea was then implemented here in West Bend and the rest is history!
The need for a fund-raiser stemmed from a decision made 7 years prior to the start of Seafood Fest to help preserve West Bend's wetlands and natural waterways. The West Bend Rotary group emphatically decided to lend a hand to the second phase of the Riverwalk expansion project and pledged $110,000 to do so.
There was initial apprehension regarding the organization of an event this size, but outstanding turnouts for the 3 day event left organizers pleased with the results. Even with a fair amount of rain on the first night, many people dropped by Regner Park to see what all the excitement was about. By all measures, the event was deemed a success. All told, 875 lobsters were sold over the course of the event."

In June 2014 the Noon Rotary made some changes including putting an end to the tokens and switching the name from Seafood Fest to Riverfest.  The event was also moved off N. Main Street to the pavilion in the park with the Silver Lining Stage.
This past year organizers added food trucks to the mix, although some miscommunication and rainy weather took a toll on turnout.
What are your memories of Seafood Fest?