West Bend, Wi – It was April 2023 when blueprints were reviewed for the new Rogue Beauty Bar 115 N. Sixth Ave, in West Bend, WI. Brittani Wolf, CEO and owner of the establishment, is building out the former Slesar Glass location and with the utilities nearly complete the floor is ready to be poured.
Rogue Beauty Bar is hiring. Starting pay is between $25 – $30 an hour.

Click HERE and apply today.

Brittani Wolf has submitted a conditional use permit application to operate a micro-blading service for permanent make up, paramedical tattoos and areola reconstruction at 115 N. 6th Avenue for the Rogue Beauty Bar.   The State of Wisconsin considers these types of service to be a tattoo establishment and is regulated in the same manner.
A conditional use permit is required to operate a tattoo and body piercing establishment per Section 17.26(3)(k) of the Zoning Code and in accordance with Section 11.15, Health and Sanitation of Tattooing and Body Piercing of the Municipal Code.
The parcel is zoned B-2 Central Business District.  Rogue Beauty Bar will be offering the services at this location.
An operations letter received from owner describes the proposed business as follows:
·         The hours of operation will be from 9:00 a.m. to 9:00 p.m. Sunday through Saturday.
·         Rogue Beauty Bar is located in a 4,800 sq. ft. building that is being divided into several individual rooms to conduct various services.  Two rooms are exclusively labeled as tattoo rooms for the micro-blading services.  Each room is to have a door for privacy and wash facilities.
·         She will be the only person within the establishment providing themicro-blading services at this time.  Brittani has one additional lash technician and an assistant.  She is anticipating to increase her staff with eight additional technicians and receptionists in the future.
·         The operations letter anticipates an average of 5 to 100 customers per day acquiring services and general sales.  The clientele will consist primarily of women between of the ages of 18 -70.
·         A tattoo license is required by the State of Wisconsin license.
pc:              Brittani Wolf, Rogue Beauty Bar
On a history note – Wolf and her construction crew did salvage a piece of memorabilia… 
"Everyone asks me about the map," said Brittani Wolf, owner of Rogue Beauty Bar, opening this fall 2023 at 109 N. Sixth Avenue in West Bend, WI. "It is a cartoonesque version of downtown historic West Bend and it has all the businesses from the 1970s maybe… and it's very old and very cool."
Wolf closed on the purchase of the building in February 2023. The map was a fixture under glass at the front counter when Paul Slesar opened his store Slesar Glass. "Paul even reached out and asked me about the map," said Wolf. "My husband ended up finding it in the Dumpster."
Click HERE to SUBSCRIBE to FREE local news at
The paper map, which is a little worse for wear, suffered a couple tears and dog-eared corners was found in a cardboard tube from Lieberman's Gallery Picture Co. on West 35th Street in New York, NY.  It's unclear whether that was the original container for the paper map. A phone call and email have been sent to the company to see if it can shed any light on the maps and how they originated.


Some of the businesses highlighted include Tri-County, J&J Liquors, Center of Attention LTD Gifts and Collectables, the Steve Meyer home built in 1893 and Carl Mayer home built in 1859, and the Mail Drop.
Wolf said she is going to frame the map and put it up in her new store when it opens in fall 2023. Below is the original story about the Rogue Beauty Bar buildout that ran earlier this week.
The buildout at 109 N. Sixth Avenue in West Bend, WI is expected to take about six months as the former Van Beek Motor Co. turned Slesar Glass finds new life as Rogue Beauty Bar. Brittani Wolf is the owner with a vision.
"I had the honor of meeting with Paul Slesar of Slesar Glass and I hope to one day make this a legacy business to give to my daughter just like he made in this building," said Wolf.
The remodel process started earlier this month as the building was gutted. Gone is the raised platform counter and reception area. The carpeting has also been removed along with some partitions.
"You can see the floors are pitched a bit," said Wolf. "There used to be garage doors along the walls and vehicles would pull in and have their oil changed. Underneath the floor are drains and in the corner is a grease pit."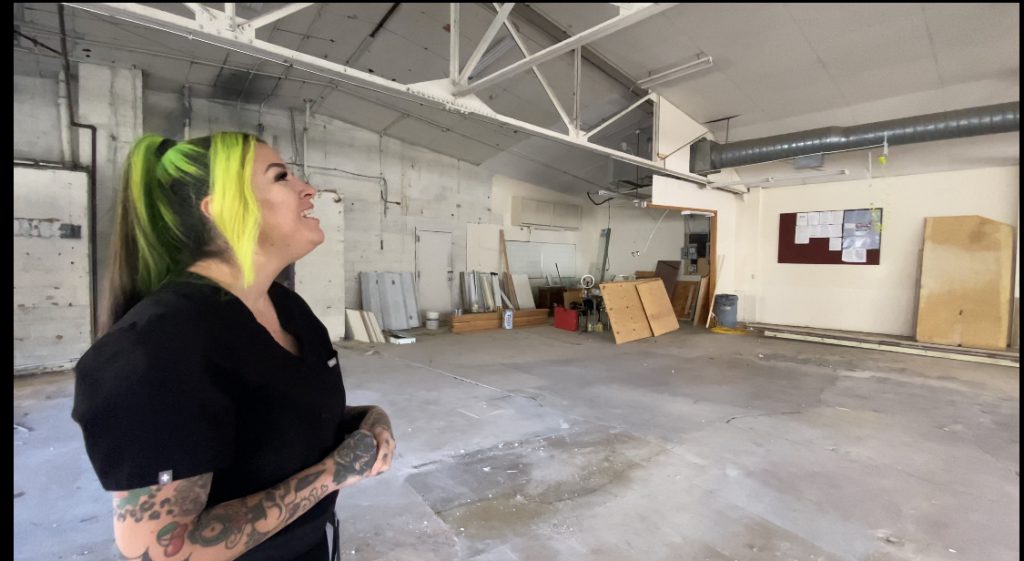 Some history on the building: Erv Van Beek had a Plymouth dealership in the mid-1960s, then there was a printing press for the Daily News in the building and then Slesar Glass moved its business.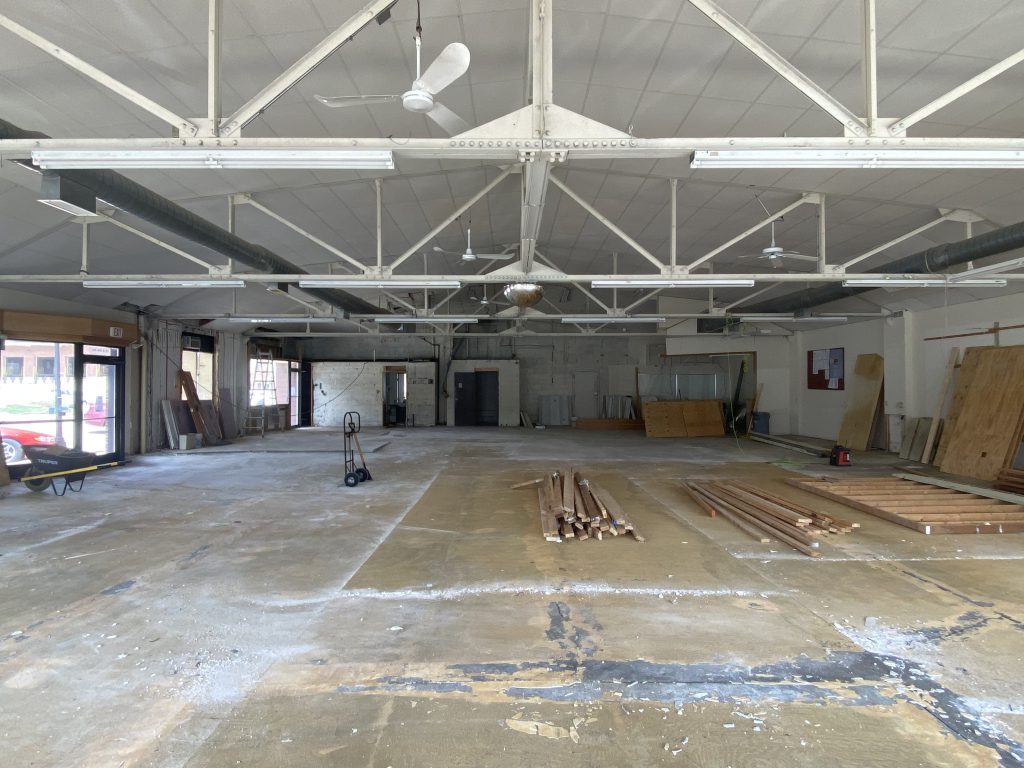 Neighboring businesses at the time included the old City Hall across the street, currently home to Time Investments. There were attorneys to the south, Winkler's Office City was to the east and before Marth Realty was to the north, West Bend Amusement was on the back side of some Main Street buildings along with Hankerson's Bakery.
It was the history and the unique architecture Wolf fell in love with when she toured the building, particularly the vaulted ceiling and the riveted metal beams.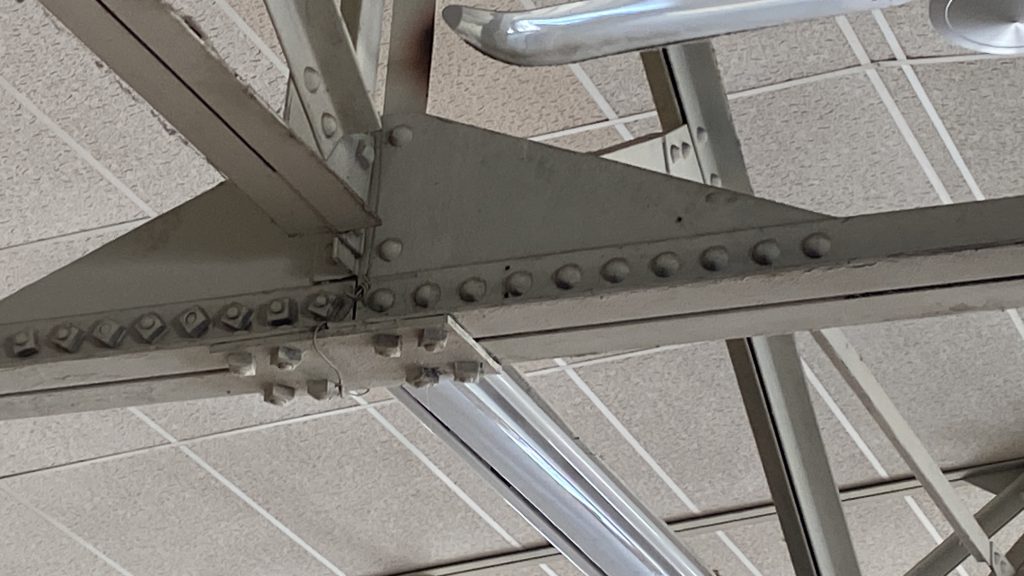 The lower level features a unique metal door that led to an oil change pit below the showroom floor.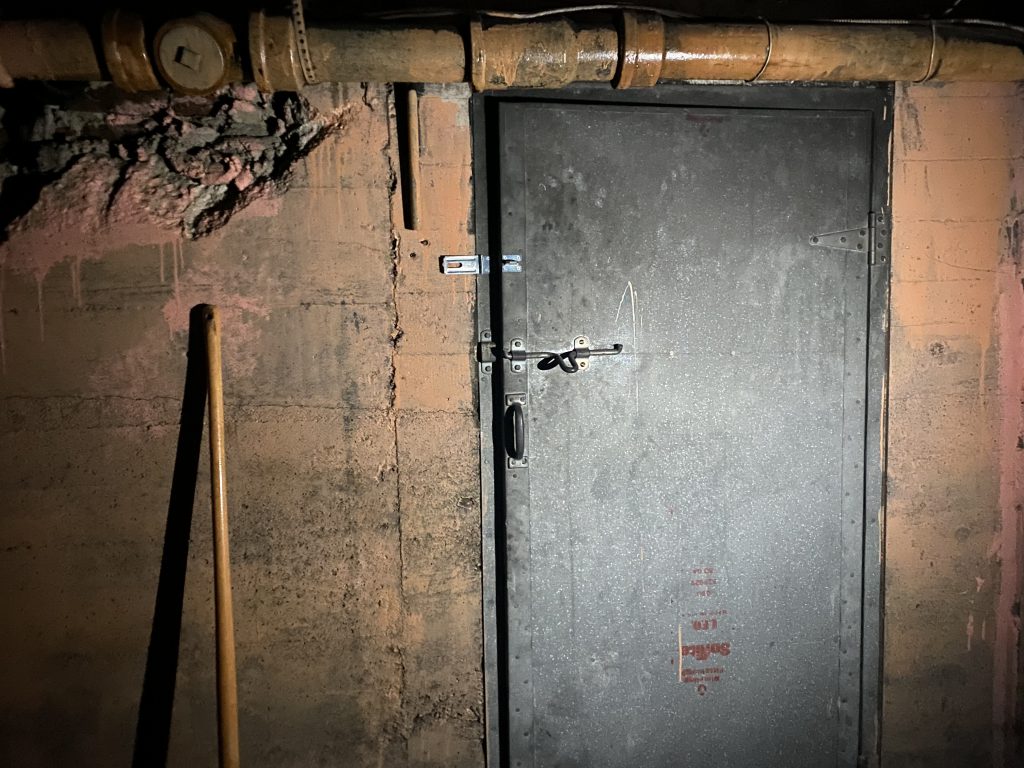 The former Slesar Glass building has been divided into two parts. Wolf, operating as Wolf Triple R, LLC purchased the southern half at 109 N. Sixth Avenue on February 24, 2023, for $376,000.
It was mid-2018 when Slesar had the building up for sale. Records show 109 and 111 N. Sixth Avenue sold November 17, 2020, for $500,000.
Wolf said the new location will feature 6 -to- 8 rental suite locations, cosmetic tattoos, lash education, a float room which is a "glorified hot tub with 700 pounds of salt."
The new Rogue Beauty Bar is expected to open in 2024.