West Bend, Wi – After a 5-year hiatus, Chef Jodi Janisse-Kanzenbach and her esteemed crew at Precinct Tap & Table in Germantown, WI, are gearing up to offer the "Dinner on the Farm" experience once again. Dive into the vibrant farm ambiance while savoring each bite.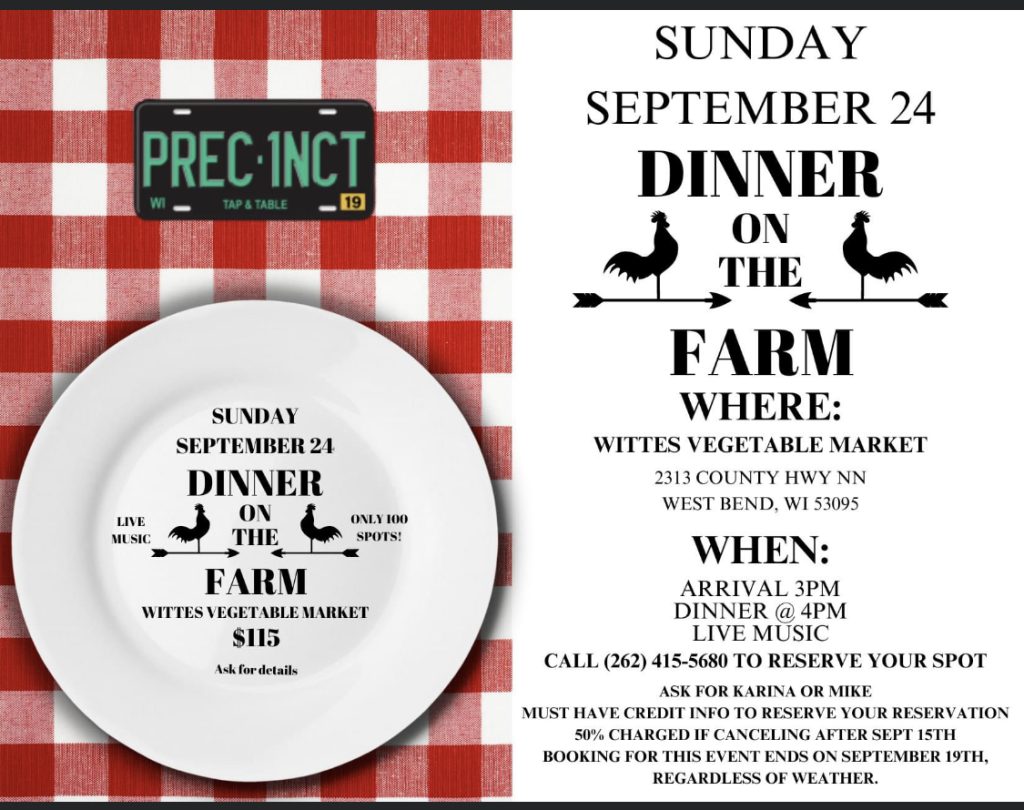 Janisse-Kanzenbach made the announcement during a livestream on social media. "Gus Witte has asked me every year to do a Dinner on the Farm and although being overwhelmed… we decided we're going to do it and on September 24, we will do it at Witte's Vegetable Market on Highway NN.
Click HERE to SUBSCRIBE to FREE local news at
"It's a ton of work for the staff but we really love doing it and everything is set up with tables in the grass and it goes on rain or shine," said Janisse-Kanzenbach.
"One year it started raining and we picked up the tables and had it in the barn within 10 minutes."
For two years the event was held at Witte's Vegetable Market and another year it was held on Main Street in Downtown West Bend.
"Years past it was BYOB with drinks but this year it will be complimentary beer and wine," said Janisse-Kanzenbach.
Reservations are required and there are only 100 spots available so call The Precinct at 262-415-5680 and ask for Karina or Mike.

Below is a photo, courtesy Jamison Johnson, of the crew from the 2017 Dinner on the Farm.

Date: Sunday, September 24
Arrival: 3 PM
Dinner: 4 PM
Location: Witte's Vegetable Market, 2313 County HWY NN, West Bend, WI 53095
Event Highlights:
Limited to 100 spots.
Four-course gourmet dinner.
Complimentary beer
Complimentary wine and non-alcoholic beverages.
LIVE MUSIC to accompany your meal.
Price: $115 per person (excluding gratuity).
Note: No dietary substitutions are allowed.
Weather Policy: The event will proceed, rain or shine.
For reservations, please call Precinct at 262-415-5680 and ask for Karina or Mike. It's essential to provide credit card info upon reserving.
Please be advised, a 50% charge will be incurred for cancellations made after September 15. The last date to book for this event is September 19.
Seating is limited, so reserve your spot soon for an evening filled with delectable food, refreshing beverages, and soulful music!
#DinnerOnTheFarm #ChefJodiReturns #FarmToTable #Prec1nctEvents #WestBendEats #GourmetExperience #LiveMusic #ReserveNow