Exchange students respect American patriotism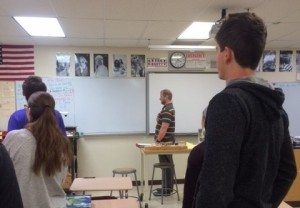 There's a good article about patriotism written by West Bend High School student Alyssa Birkeland published in the latest edition of The Current.
Birkeland talked to foreign exchange students about reciting the Pledge of Allegiance in class.
A portion of her article is posted below.
"I just stand up out of respect, but I don't say it," said Alberto Loro, a student from Italy. Loro happens to live in a family with another exchange student, Nick Leuthold from Switzerland. Leuthold stated that he also stands but doesn't recite, although he was required by his exchange program to learn the words before coming to West Bend.
Loro came through the same program but said he never had to learn the pledge.
Fabian Nöesges, a German student, also stands for the pledge. When asked if he knew the words, Nöesges began reciting the first line, and was shocked by the end, when he found he had it perfectly memorized.
"Oh my God, I know that!," he said. "I'm surprised I know it."
Read the rest of Birkeland's article by logging onto The Current.
(Top image: Alberto Loro, exchange student from Italy, stands for the Pledge of Allegiance during his first period AP Physics class. Photograph by Alyssa Birkeland, Current Staff.)