March 2, 2020 – Slinger, WI – Lexi Bullis is a hard working, passionate, and goal-oriented snowboard racer from Slinger.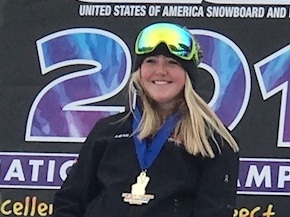 A 2018 Slinger High School graduate, Bullis, 20, is currently a sophomore at Colorado UCCS.
Bullis started hardboot snowboard racing just five years ago. Her father Paul started the Slinger High School Snowboard team to help her improve her racing skills.
The team is a starting spot for snowboarders to experience the world of snowboard racing and plays a giant role in the Slinger community.
In high school success came quickly for Bullis who won the Wisconsin State High School Overall champion title in 2017 and 2018, along with the 2017 title for USASA National Championships for slalom and giant slalom.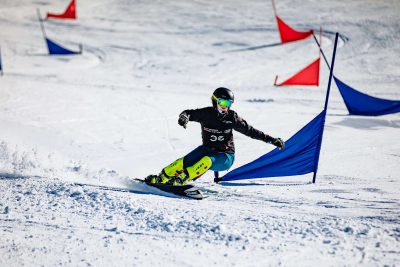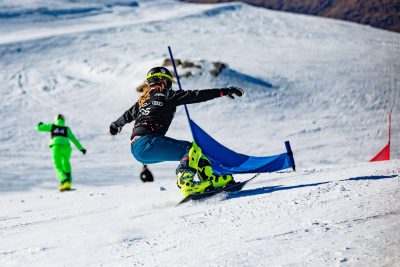 In 2018-2019, Bullis became a member of the United States Snowboard Racing Team and quickly excelled to earn a spot at the 2019 World Championships in Park City, Utah, where she placed 30th in giant slalom. At the National Championships that same year, Bullis took home a silver in slalom, and fifth place in giant slalom.
This past season, Bullis competed in the North American Cup (Nor-Am). She is also attempting to get to Junior Worlds 2020 in Austria, but needs funds and motivation from the community to get there.
Bullis has started a business, Alpine Soap Company, which sells bath fizzies and all natural soaps; that business is playing a key role in her effort to get to Junior Worlds.
Proceeds from the sale of her soap help Bullis in her quest to compete overseas. The soap is handmade and uses natural ingredients and processes that originated from her mother's techniques for 20 years. The soaps have no preservatives and include a wide variety of natural ingredients and special additions including fragrances, pigments, and textures.
Bullis has many active sponsors including Donek Snowboards, Sol Alpine, Glacier Hills, Attitude Sports, Kulkea, Altitude Snacks, and Lifestar Emergency Medical Services.  Click HERE for more details on Alpine Soap Company.