Slinger wrestling team receives prestigious award | By Ron Naab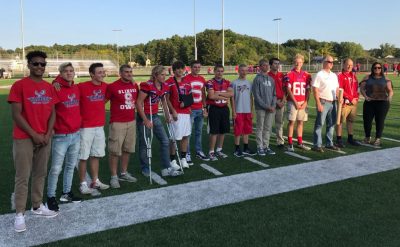 August 29, 2017 – Slinger, WI – The Slinger High School boys wrestling team was recognized prior to the start of the Owl's varsity football game last week as it received the WIAA/Rural Mutual Insurance Sportsmanship Award.
Every team that participates in a WIAA State Tournament is eligible. The selection process includes input from contest officials, tournament management, police and security personnel, crowd control, ushers, and WIAA staff.
Teams are judged on conduct and sportsmanship of coaches and athletes, cheer and support groups, mascots, bands, student groups and adult spectators. School administrators and chaperones are measured during the tournament as well to keep the support for their teams and student-athletes positive and enthusiastic.
Officials from the WIAA may solicit input from hotels, restaurants and business people in the city where WIAA state events take place
The Rural Mutual Insurance State Tournament Sportsmanship Award is a community award.
Gina Fritsch and Bill Dorrance of Rural Mutual Insurance presented the award.
Photo courtesy the Slinger School District.