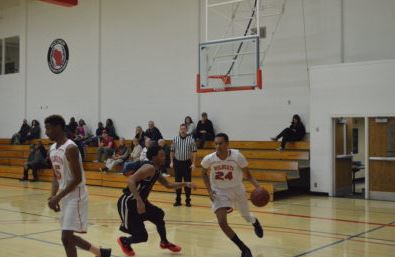 Jan. 4, 2018 – Washington Co., WI – In its first game of calendar year 2018, all 10 players in uniform for the UW-Washington County men's basketball team shared the ball well as the Wildcats finished with a 114-61 victory at home vs. UW-Richland Center.
The Wildcats shot 86 percent from the free-throw line, 42 percent from behind the 3-point arc, and 54 percent on 2-pointers as a team.
AJ Barnes, Jr. scored 24 points and dished out six assists, while also gathering 10 rebounds.  Campbellsport's Koy Walsh scored 20 points, collected 7 rebounds, and had four steals.
Ahmad Pender, Jr. scored 14 points and added 10 rebounds.
Cedarburg's Sam Krause connected on 4-7 3-pointers for 12 points.  Trenton Walstra scored 11, including three 3-pointers.  Adrian Huerta scored 9 and dished out four assists.
Slinger's Mitchell Behm scored 9 points.  Derrick Chaney had 6 points and three assists.  J-Broxton Thomas had five points and six rebounds.  David Wiley, Jr. had four points and contributed very well in the Wildcats transition game.
UW-Washington County's conference record will go to 10-0 on Saturday as their next scheduled opponent, UW-Barron County will forfeit the remainder of their season due to diminished number of players on their roster.
The next game for the Wildcats is Wednesday, Jan. 10 when the first-place team in the Western Division, UW-Rock County, travels to West Bend to face the first-place team in the Eastern Division, UW-Washington County.
UW-Rock is big and fast, and also has an older roster than the Wildcats, who are comprised almost entirely of freshmen.  But the chemistry is coming along for the Wildcats and it should be a very exciting game at 400 South University Drive in West Bend.